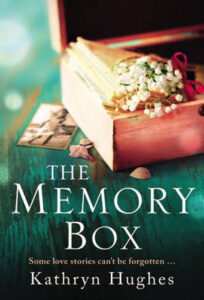 ShortBookandScribes #BookReview – The Memory Box by Kathryn Hughes
Today I'm reviewing The Memory Box by Kathryn Hughes. This is a wonderful read! My thanks to Rosie Margesson from Headline for the proof copy of the book for review purposes.
---

---
From the million-copy-bestselling author of The Letter, Kathryn Hughes, and inspired by true events, an unforgettable, moving and timeless story of love and war which will stay with you for ever. Readers who adored The Nightingale, The Notebook or The Rainbow will love to unlock The Memory Box…

Jenny Tanner opens the box she has cherished for decades. Contained within are her most precious mementoes, amongst them a pebble, a carving and a newspaper cutting she can hardly bear to read. But Jenny knows the time is finally here. After the war, in a mountainside village in Italy, she left behind a piece of her heart. However painful, she must return to Cinque Alberi. And lay the past to rest.

After a troubled upbringing, Candice Barnes dreams of a future with the love of her life – but is he the man she believes him to be? When Candice is given the opportunity to travel to Italy with Jenny, she is unaware the trip will open her eyes to the truth she's been too afraid to face. Could a place of goodbyes help her make a brave new beginning?
---

---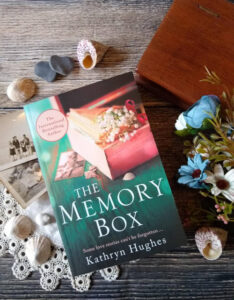 The Memory Box had me spellbound from start to finish. It's beautifully written, evocative and emotional and absolutely my favourite kind of read.
Jenny is about to turn the grand old age of 100. She's doing so in Green Meadows Residential Home because everybody she ever loved or cared for has gone. By her side is Candice, a carer to whom Jenny has become close. The two of them plan for a trip to Italy to deal with something in Jenny's past which unfolds throughout the course of the book.
Jenny is a wondrous creation. She's feisty, sharp-witted and nobody's fool. Her narrative and her inner thoughts, especially about Candice's boyfriend, made me smile so much. But there's also heartbreak in Jenny's story going back to World War II and when Candice finds the memory box full of Jenny's most important mementoes she knows it's time to face the past before it's too late.
The Memory Box is a fairly large book but I didn't want it to end. I love a book which follows a long life, one well-lived but full of the ups and downs that come with it. The author has weaved some real events into the story which really added to the interest for me. Taking us from the relative safety of Wales to occupied Italy and then back to the current day in England, each setting was portrayed to perfection, putting me right there alongside the characters I had come to care about.
There are a couple of surprising turns in the story, one of which had me exclaiming out loud. I think it was testament to the author's all-consuming writing that I felt that surprise so keenly. I absolutely adored this tale of a woman looking back on her long life and the young woman who has barely embarked on hers but for whom spending time with Jenny might just change it forever. The Memory Box is easily one of my favourite reads of the year and is one I won't forget.
---
---
Kathryn Hughes was born in Altrincham, near Manchester. After completing a secretarial course, Kathryn met her husband and they married in Canada. For twenty-nine years they ran a business together, raised two children and travelled when they could to places such as India, Singapore, South Africa and New Zealand. Kathryn and her family now make their home in a village near Manchester.