ShortBookandScribes #BookReview – The Maidens by Kate Foster
The Maidens by Kate Foster is published today by Mantle in hardcover, ebook and audiobook. Congratulations to the author! My thanks to Chloe Davies for the proof copy. I loved this book so much.
---

---
Inspired by a real-life case and winner of the Bloody Scotland Pitch Perfect Award, Kate Foster's The Maiden is a remarkable story with a feminist revisionist twist, giving a voice to women otherwise silenced by history.

"In the end, it did not matter what I said at my trial. No one believed me."

Edinburgh, October 1679. Lady Christian is arrested and charged with the murder of her lover, James Forrester. News of her imprisonment and subsequent trial is splashed across the broadsides, with headlines that leave little room for doubt: Adulteress. Whore. Murderess.

Only a year before, Lady Christian was newly married, leading a life of privilege and respectability. So, what led her to risk everything for an affair? And does that make her guilty of murder? She wasn't the only woman in Forrester's life, and certainly not the only one who might have had cause to wish him dead . . .
---

---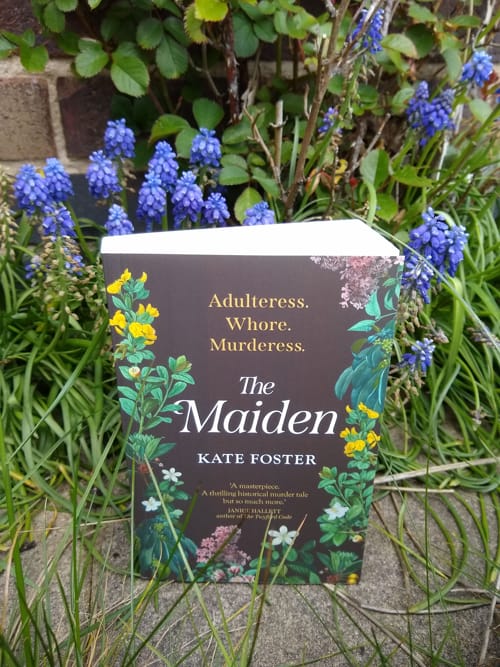 The Maiden is an absolutely brilliant work of historical fiction, a story that is both compelling and shocking, and based on true events.
Kate Foster has reimagined the life of Lady Christian Nimmo. In 1679 Christian was charged with murdering the Laird of Corstorphine, James Forrester, her uncle by marriage and also the man she was having an affair with. This book considers what made Christian risk everything and I found it a very convincing account.
The story is told from the points of view of two very different women: Christian and another young woman named Violet. The two narratives are woven together to portray the run up to the murder and what happens afterwards. I didn't know what the Maiden was before reading and now I do and it's pretty grisly.
I like my historical fiction to be accessible and The Maiden hits the mark perfectly. It has a contemporary feel to the writing that made it very easy to read, but is still steeped in historical detail and atmosphere which thoroughly transported me to the 17th century streets of Edinburgh. The contrast between the lives of Christian and Violet is stark, the divide between those who have and those who have not never more clear, and yet Foster shows us that life for any woman at that time, no matter their background, was far from easy.
This might be a story of murder but it's also a story with heart. The question of survival is never far away, and I felt sympathetic towards most of the characters. Although the outcome is fairly obvious from the beginning, Foster's writing completely captivated me and I wanted to know everything that would lead me to the conclusion: why, how, when and where. I was utterly gripped and enthralled by The Maiden, a beautifully written historical tale that I couldn't put down.
---
---
Kate Foster has been a national newspaper journalist for over twenty years. Growing up in Edinburgh, she became fascinated by its history and often uses it as inspiration for her stories. The Maiden won the Bloody Scotland Pitch Perfect 2020 prize for new writers. She lives in Edinburgh with her two children.