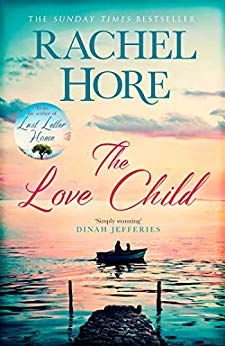 ShortBookandScribes #BookReview – The Love Child by Rachel Hore @Rachelhore @simonschusterUK #RandomThingsTours #BlogTour #TheLoveChild
It's way too long since I read a Rachel Hore novel so I jumped at the chance to read The Love Child and what a gorgeous read it is! My thanks to Anne Cater from Random Things Tours for the place on the tour and to Simon & Schuster for the lovely finished copy of the book for review purposes.
---

A young mother's sacrifice. A child's desperate search for the truth . . .
London, 1917

When nineteen-year-old Alice Copeman becomes pregnant, she is forced by her father and stepmother to give up the baby.  She simply cannot be allowed to bring shame upon her family. But all Alice can think about is the small, kitten-like child she gave away, and she mourns the father, a young soldier, so beloved, who will never have the chance to know his daughter.

Edith and Philip Burns, a childless couple, yearn for a child of their own. When they secretly adopt a baby girl, Irene, their life together must surely be complete. Irene grows up knowing that she is different from other children, but no one will tell her the full truth.

Putting hopes of marriage and children behind her, Alice embarks upon a pioneering medical career, striving to make her way in a male-dominated world. Meanwhile, Irene struggles to define her own life, eventually leaving her Suffolk home to find work in London.

As two extraordinary stories intertwine across two decades, will secrets long-buried at last come to light?

Brilliantly evoking the changing attitudes of the time, The Love Child is a novel about love, family, separation, despair and hope, full of tenderness and deep feeling.
---
I love Rachel Hore's books and it's been far too long since I've read one so I was really keen to read The Love Child.
Alice Copeman is a young woman who, as the story begins, is about to give birth to a baby girl. Unfortunately, she is unmarried and this is 1917 when single motherhood was an unthinkable scandal. She is forced by her father and overbearing stepmother to give her baby up for adoption. Sadly, the father of the baby, Jack, has been killed fighting in the war and Alice has no choice but to go along with the adoption.
Irene is that baby and she is adopted by a childless couple, Philip and Edith Burns. But whilst Philip dotes on Irene, Edith is distant and Irene is very much aware of not being a natural child of the family.
I loved this story of the two women. We follow them through the years as Alice strives to become a doctor and Irene grows up and eventually leaves home. Both are wonderfully drawn characters, very different yet Irene has that streak of strength running through her that most definitely comes from Alice. The stories are not told in alternating chapters but in longer sections for each woman and I was always reluctant to be pulled away from one strand, but keen to see what the other strand would offer.
I found Alice's journey through medical school and beyond so fascinating. At the end of the book the author says that she struggled to find any research material to help her with this part of the story. Women doctors were frowned upon and apparently if Alice had wanted to use her skills as a hospital doctor she would have had to basically pretend to be a man! I particularly liked Alice's work with birth control, especially amongst working class families. She is very ahead of her time and I loved that about her.
The Love Child is a charming and gentle story with so many levels to it. I suppose you might call it a slice of life story and despite that gentle feel many difficult issues are tackled, not least adoption and all its associated issues, women's place in society and fighting to be more than simply a wife and mother, war, love, friendship and family.
I thought it was so evocative of the time, so beautifully portrayed and the writing is just wonderful. The inter-war years are so interesting, that sense of 'never again' and yet the Second World War looming ever closer. Things are starting to change, particularly for women, and I felt like I was living in the 1920s and 30s, observing as an onlooker rather than a reader. I think it's a skilled writer who can make a slice of life story compelling reading and that's exactly what Rachel Hore has achieved with this book.
In case you were in any doubt, I really enjoyed The Love Child. It's a simply gorgeous piece of fiction.
---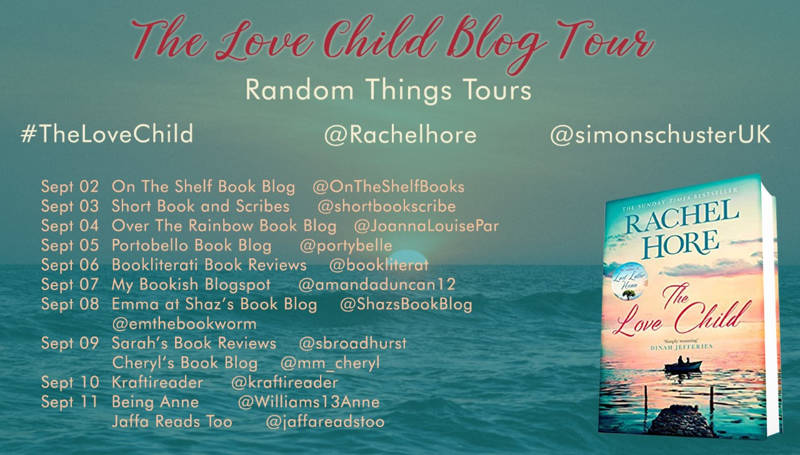 ---

Rachel Hore worked in London publishing for many years before moving with her family to Norwich, where she teaches publishing and creative writing at the University of East Anglia. She is married to the writer D. J. Taylor and they have three sons. Her latest novel, Last Letter Home, was a Sunday Times bestseller and a Richard and Judy Book Club pick for 2018.