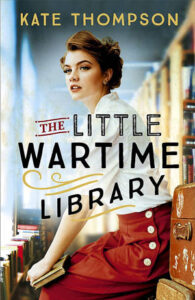 ShortBookandScribes #BookReview – The Little Wartime Library by Kate Thompson
Today's review is of The Little Wartime Library by Kate Thompson which is such a delight. My thanks to Niamh Anderson from Hodder & Stoughton for sending a proof copy of the book for review purposes. It's published in hardcover, eBook and audiobook on 17th February.
---

---
London, 1944.

Clara Button is no ordinary librarian. While the world remains at war, in East London Clara has created the country's only underground library, built over the tracks in the disused Bethnal Green tube station. Down here a secret community thrives: with thousands of bunk beds, a nursery, a café and a theatre offering shelter, solace and escape from the bombs that fall above.

Along with her glamorous best friend and library assistant Ruby Munroe, Clara ensures the library is the beating heart of life underground. But as the war drags on, the women's determination to remain strong in the face of adversity is tested to the limits when it seems it may come at the price of keeping those closest to them alive.

Based on true events, The Little Wartime Library is a gripping and heart-wrenching page-turner that remembers one of the greatest resistance stories of the war.
---

---
A story set in wartime in a library…..my kind of book. The Little Wartime Library is an absolute joy to read, a beautiful, moving and uplifting book that I loved.
The year is 1944 and Clara Button is a librarian in Bethnal Green. This is no ordinary library though. When the area's library was bombed, Clara took it underground to the unused Bethnal Green tube station. She found herself with a captive audience as thousands of people had to live in the station due to the housing crisis caused by the blitz and other bombing campaigns. It's a terrible situation but a great sense of friendship and camaraderie develops down there.
I loved this book so much. It's full of the stoicism of life at war. Clara faces obstacles every way she turns but she makes the best of it. I loved Clara for her love of books, her care for people, her nurture of children, the way she had a knack of guessing people's favourite books, and her gentle and lovely personality. Working alongside her best friend, Ruby, she transforms lives with her little library. Ruby is fantastic too, sexy, raunchy and feisty, she's the antithesis of Clara's quiet fortitude.
This is my first Kate Thompson book and I have no idea why as she writes exactly the kind of books I enjoy. There are some delightful touches in this book, like using real librarian's quotes at the beginning of each chapter and then weaving that quote into the story. It's based around true events and the author blended fact and fiction perfectly so it never felt forced.
The Little Wartime Library gave me all the feels. It made me smile, it made me laugh long and hard in a couple of places, and I found it touching and heart-breaking. It's a wonderful book.
---
---
Kate Thompson an award-winning journalist, ghostwriter and novelist who has spent the past two decades in the UK mass market and book publishing industry. Over the past eight years Kate has written eleven fiction and non-fiction titles, three of which have made the Sunday Times top ten bestseller list.