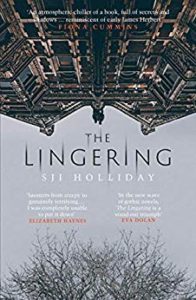 ShortBookandScribes #BookReview – The Lingering by SJI Holliday @SJIHolliday @OrendaBooks #RandomThingsTours #BlogTour
I'm so pleased to be reviewing The Lingering by SJI Holliday today. This is a book that I knew I wanted to read as soon as I heard about it and then I saw that fabulous cover and was even more excited. My thanks to Anne Cater for the place on the tour and to Karen Sullivan from Orenda for the review copy.
Married couple Jack and Ali Gardiner move to a self-sufficient commune in the English Fens, desperate for fresh start. The local village is known for the witches who once resided there and Rosalind House, where the commune has been established, is a former psychiatric home, with a disturbing history.
When Jack and Ali arrive, a chain of unexpected and unexplained events is set off, and it becomes clear that they are not all that they seem. As the residents become twitchy, and the villagers suspicious, events from the past come back to haunt them, and someone is seeking retribution…
At once an unnerving locked-room mystery, a chilling thriller and a dark and superbly wrought ghost story, The Lingering is an exceptionally plotted, terrifying and tantalisingly twisted novel by one of the most exciting authors in the genre.
---

This is my first SJI Holliday book but I seem to have most of her back catalogue waiting for me. Based on The Lingering I feel sure I will like them.
Ali and Jack Gardiner, at the start of the book, arrive at a Fenland commune. We know they are running from something but we don't know what. They meet Smeaton, the man in charge of the commune, and various other residents, including Angela, a young and slightly naive woman with an interest in the supernatural. Angela tries to befriend Ali, but is also wary of her.
The commune has a chequered and sinister past. In the 1500s it was linked to witches and then, in the much more recent past, it had been an asylum. As is often the case, the treatments there were barbaric and led to something happening that comes back, quite literally, to haunt Ali. The local villagers are very suspicious of the newcomers, Ali and Jack, and also of the commune, although the villagers can't see that they themselves are a closed community too in their own way.
From the very beginning of this book we start to get a feeling about Ali and Jack, that maybe they're not all they seem to be. I found them to be those characters I love to hate: complex, cunning, yet so very interesting. All the characters are fascinating, in fact, and they make up a whole cast that enthralled me.
I know many reviewers have been genuinely scared by the contents of The Lingering. I wasn't but then nothing has ever made me think ghosts exist. I'm far more scared of what human beings are capable of and those aspects of the story chilled me far more than the ghostly aspects. However, despite my scepticism where ghosts are concerned, those sections were perfectly pitched so that they came across as completely authentic.
The Lingering is a compulsive and intense read, one which I found absolutely compelling. The house's past, Ali and Jack's past, Angela's supernatural investigations, all come together to make this a really inspired story. I love what the author has achieved here, how she has weaved the strands together. It's a fabulous read.
---

---

S.J.I. (Susi) Holliday is a pharmaceutical statistician by day and a crime and horror fan by night. Her short stories have been published in many places and she was shortlisted for the inaugural CWA Margery Allingham prize with her story 'Home from Home', which was published in Ellery Queen Mystery Magazine in spring 2017. She is the bestselling author of the creepy and claustrophobic Banktoun trilogy (Black Wood, Willow Walk and The Damselfly) featuring the much-loved Sergeant Davie Gray, and has dabbled in festive crime with the critically acclaimed The Deaths of December. Her latest psychological thriller is modern gothic with more than a hint of the supernatural, which she loved writing due to her fascination and fear of ghosts. She is proud to be one of The Slice Girls has been described by David Mark as 'Dark as a smoker's lung.' She divides her time between Edinburgh and London and you will find her at crime-fiction events in the UK and abroad.