ShortBookandScribes #BookReview – The Likely Resolutions of Oliver Clock by Jane Riley @JaneRileyAuthor @AmazonPub @ed_pr #BlogTour
I'm so pleased to welcome you to my stop on the blog tour for The Likely Resolutions of Oliver Clock by Jane Riley. I really enjoyed this book. My thanks to ED PR for asking me to be a part of the tour and for sending a proof copy of the book for review purposes.
---
His life is perfectly regimented. Is there really room for something as unpredictable as love?

Oliver Clock has everything arranged just so. A steady job running the family funeral parlour. A fridge stocked with ready meals. A drawer full of colour-coded socks. A plan (of sorts) to stay trim enough for a standard-sized coffin. And in florist Marie, he's even found the love of his life—not that she's aware of it.

When a terrible tragedy takes Marie out of his life but leaves him with her private journal, he discovers too late that she secretly loved him back. Faced now with an empty love life, a family funeral business in trouble, a fast-approaching fortieth birthday and a notebook of resolutions he's never achieved, Oliver resolves to open himself up to love—and all the mess that comes along with it.

But, with a habit of burying his feelings, can he learn to embrace his lovability and find the woman who will make him feel whole?
The Likely Resolutions of Oliver Clock by Jane Riley is out now, published by Lake Union in paperback original.
---

The Likely Resolutions of Oliver Clock is a delightful story, quirky and moving.
Oliver Clock is the third generation in his family's funeral parlour business. He doesn't like change or disorder, and struggles with relationships. He's been in love with Marie, the florist who supplies the flowers for the funerals Oliver arranges, for years but she's married and even if that marriage doesn't always seem happy, he doesn't feel in a position to do anything about his feelings. Until one day it's too late and Oliver realises he could have had it all after all.
I loved Oliver. I thought he was a fabulous creation. He's awkward and spends a lot of time making resolutions that don't really come to anything. But during this story he goes on such a journey of discovery about himself and his life, and his resolutions start to mean something to him. I really enjoyed the other characters in the book too such as his mother, Doreen, Jean who is the administrator at the funeral parlour, Edie who he meets in the course of his work, and his best friend, Andy. Each one helps to make this a very endearing read.
I often found myself giggling at Oliver, the way he behaved, the things he came out with and the situations he found himself in. Setting his story in the serious environment of a funeral parlour was a stroke of genius on the part of the author as it mixes death with life in the most brilliant way. It's a really easy book to read and so engaging, and I was really hopeful that Oliver would find a greater peace within himself by the end.
This is such a heartwarming, lovely read. I found it a pleasure to read. In the style of one of Oliver's resolutions: thou shalt enjoy it!
---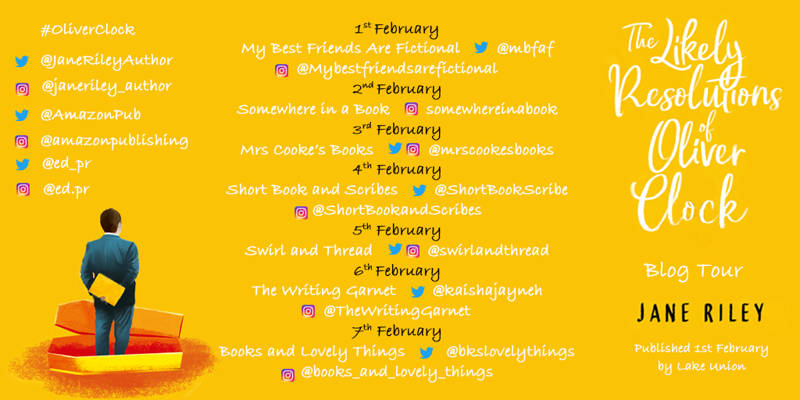 ---

Jane Riley began her career in public relations before moving into publishing and later
launching an online e-commerce business. She has freelanced as a writer and editor and
wrote a design blog interviewing makers and creators. She volunteers as an English language tutor for the Adult Migrant English Program in Sydney. The Likely Resolutions of Oliver Clock is her first novel.