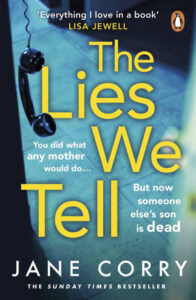 ShortBookandScribes #BookReview – The Lies We Tell by Jane Corry
I always love to pick up a Jane Corry book and The Lies We Tell is no exception. My thanks to the team at Viking Books for sending me a proof copy for review purposes.
---

---
Sarah always thought of herself and her husband, Tom, as good people. But that was before their son Freddy came home saying he'd done something terrible. Begging them not to tell the police.

Soon Sarah and Tom must find out just how far they are willing to push themselves, and their marriage, to protect their only child . . .

As the lies build up and Sarah is presented with the perfect opportunity to get Freddy off the hook, she is faced with a terrifying decision . . .

Save her son . . . or save herself?
---

---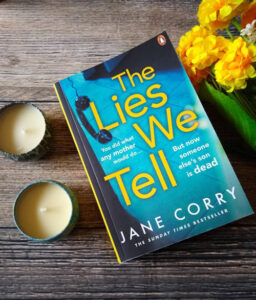 How far would a mother go to protect her child? That is the question at the heart of Jane Corry's latest book, The Lies We Tell. It looks at the anatomy of a marriage and of parenthood, with all the trials and tribulations that can bring. When Sarah and Tom's son, Freddie, comes home one night and confesses to a terrible crime, their reactions are very different and they must consider how to deal with such a seismic event in all their lives.
There is a lot of back story in this book. In fact, it accounts for about half of the 500 or so pages but it's this build up that illustrates why Sarah and Tom react the way they do and sets the scene for what happens later on. It felt a little like sitting in on a marriage guidance session as between them they told the story of their meeting and subsequent union. It would be hard to find two more different people and yet that's exactly what drew them to each other. The characterisations in this book are really well drawn and make for intriguing reading. The author illustrates so well how parents' behaviour can trickle down and affect their children, generation after generation, but it's also a reminder that there are no right and wrong ways to bring up a child.
Corry is such a skilled writer that despite the length of this book, it never felt like it was meandering or getting stale. She's weaved a tale that I found gripping all the way through and it definitely made me think about how it must feel to be in the position that Sarah and Tom found themselves in. I always look forward to reading a Jane Corry book and I'm never let down. I whizzed through The Lies We Tell, unable to resist that extra chapter. It's such an easy to read story, yet full of emotional depth and feeling with a thought-provoking dilemma at its heart. I really really enjoyed it.
---
---
Jane Corry is a writer and journalist (Daily Telegraph and women's magazines) who worked for three years as the writer in residence of a high security male prison. This experience helped inspire her Sunday Times Penguin bestsellers 'My Husband's Wife', 'Blood Sisters', 'The Dead Ex', 'I Looked Away' and 'I Made A Mistake'. She has now sold over a million copies of her books world-wide.
Jane also writes short stories as well as a weekly digital column about being a granny for My Weekly. As well as this, she speaks at literary festivals all over the world. Many of her ideas strike during morning dog-jogs along the beach followed by a dip in the sea – no matter how cold it is!
You can find Jane on Twitter at @JaneCorryAuthor and on Facebook at JaneCorryAuthor as well as Instagram. See website for details of events. www.janecorryauthor.com.