ShortBookandScribes #BookReview – The Last Plantagenet? by Jennifer C Wilson @inkjunkie1984 @rararesources #BlogBlitz
Welcome to my stop on the blog blitz for The Last Plantagenet? by Jennifer C Wilson. I'm reviewing this short read today and would like to thank Rachel Gilbey from Rachel's Random Resources for the place on the tour and for providing a review copy of the book.
The fireplace hadn't looked like a time-portal.
All Kate had wanted was a fun, relaxing day out, watching the knights jousting at Nottingham Castle. What she ended up with was something quite different.
Transported in a heartbeat from 2011 to 1485, how will Kate handle life at the Ricardian court? Even more importantly, how will she cope when she catches the eye of the king himself?
---

I love time travel stories, especially when the travel is into the past. So a book with a tagline of "The fireplace hadn't looked like a time portal" was a real draw.
The Last Plantagenet? follows Kate as she 'falls' through a fireplace at Nottingham Castle in 2011 and finds herself transported back to 1485. She meets King Richard III just before the fateful Battle of Bosworth and he is rather taken with her.
To be honest, I wasn't sure how much depth there would be to the story with it only being 68 pages but the author has crammed a lot into those pages. Obviously, there's not the wealth of detail that you would get with a full novel, but nevertheless this is an entertaining and interesting little story.
I loved how Kate got close to Richard III. Nobody knows what he was really like but we know the rumours about him so it was good to see him portrayed favourably here. The story is called a 'giddily romantic romp' – I wouldn't quite have described it that way but it certainly has a romantic, and maybe slightly glossy, feel to it.
The ending is fabulous and made me notice that question mark in the title of the book. It's a clever and enjoyable way to spend an hour or so more than 500 years in the past.
---


---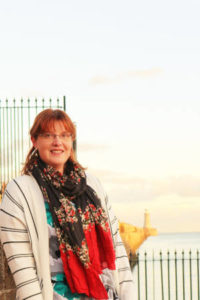 Jennifer is a marine biologist by training, who developed an equal passion for history whilst stalking Mary, Queen of Scots of childhood holidays (she since moved on to Richard III). She completed her BSc and MSc at the University of Hull, and has worked as a marine environmental consultant since graduating.
Enrolling on an adult education workshop on her return to the north-east reignited Jennifer's pastime of creative writing, and she has been filling notebooks ever since. In 2014, Jennifer won the Story Tyne short story competition, and also continues to work on developing her poetic voice, reading at a number of events, and with several pieces available online. Her Kindred Spirits novels are published by Crooked Cat Books and available via Amazon.