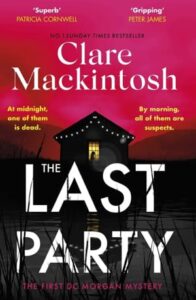 ShortBookandScribes #BookReview – The Last Party by Clare Mackintosh
The Last Party by Clare Mackintosh was published by Sphere on 4th August in hardcover, eBook and audiobook. My thanks to Emma Finnigan PR for the proof copy of the book.
---

---
On New Year's Eve, Rhys Lloyd has a house full of guests.

His lakeside holiday homes are a success, and he's generously invited the village to drink champagne with their wealthy new neighbours. This will be the party to end all parties.

But not everyone is there to celebrate. By midnight, Rhys will be floating dead in the freezing waters of the lake.

On New Year's Day, DC Ffion Morgan has a village full of suspects.

The tiny community is her home, so the suspects are her neighbours, friends and family – and Ffion has her own secrets to protect.

With a lie uncovered at every turn, soon the question isn't who wanted Rhys dead . . . but who finally killed him.

In a village with this many secrets, a murder is just the beginning.
---

---
Clare Mackintosh's first series has got off to a cracking start with The Last Party and the fiery protagonist, DC Ffion Morgan.
The setting is a contentious one, at least for the locals in North Wales. On one side of the lake is the small Welsh village of Cym Coed and on the opposite side are the new English lakeside holiday homes named The Shore. When Rhys Lloyd, a Welsh opera singer from the area, but also a co-owner of The Shore, is found dead in the lake, Ffion is the local investigating officer along with DC Leo Brady from the English police.
I loved everything about this book. The characterisations are perfect. Ffion and Leo meet in a rather unexpected way which worked really well to make their working relationship complicated and fun to read. Leo's boss, DI Crouch is a nightmare but on more than one occasion I did a double-take and laughed out loud at Ffion's sharp comebacks to his barbed comments.
The plot is great with skeletons jumping out of the closets all the time. As the story progresses it becomes clear that there are multiple possible suspects for the death of Rhys Lloyd and I liked being kept guessing (although I did have an inkling which proved partly correct).
I also loved the quite remote and quiet small village setting which sounded idyllic, if too sleepy for some of the natives. A setting with one foot in Wales and one in England was a stroke of genius I thought.
This is such a fabulous crime read and I can't wait to read book two and find out what will happen next for Ffion (and hopefully Leo).
---
---
Clare Mackintosh is the multi-award-winning author of five Sunday Times bestselling novels. Translated into forty languages, her books have sold more than two million copies worldwide, have been New York Times and international bestsellers and have spent a combined total of 64 weeks in the Sunday Times bestseller chart. Clare lives in North Wales with her husband and their three children.
For more information visit Clare's website www.claremackintosh.com or find her at www.facebook.com/ClareMackWrites or on Twitter @ClareMackint0sh.