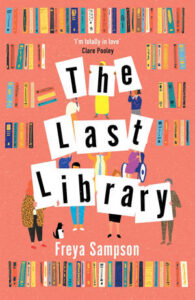 ShortBookandScribes #BookReview – The Last Library by Freya Sampson
I think I always knew The Last Library by Freya Sampson was going to be a winner for me. It's such a lovely read. My thanks to Jenna Petts from Zaffre for the fabulous personalised proof copy of the book for review purposes.
---

---
You can tell a lot about a person from the library books they borrow

Library assistant June knows a lot about the regulars at Chalcot Library, yet they know very little about her. When her mum – the beloved local librarian – passed away eight years ago, June stepped into her shoes. But despite their shared love of books, shy June has never felt she can live up to the village's memory of her mum. Instead, she's retreated into herself and her memories, surviving on Chinese takeaways-for-one and rereading their favourite books at home.

When the library is threatened with closure, a ragtag band of eccentric locals establish the Friends of Chalcot Library campaign. There's gentlemanly pensioner Stanley, who visits the library for the computers and the crosswords, cantankerous Mrs B, who is yet to find a book she approves of, and teenager Chantal, who just wants a quiet place to study away from home. But can they compel reclusive June to join their cause?

If June wants to save the library, she finally has to make some changes to her life: opening up her heart to friendship, opportunities and maybe even more . . .
---

---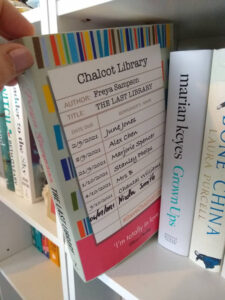 I absolutely adored this warm-hearted book. It's charming, moving and funny and it has books in it. What more could you possibly need?
June Jones is a library assistant at Chalcot Library. She's 28 and has worked there for 8 years since she lost her mum. In fact, it's her mum's former job that she's doing. She loves the library and helping people. After all, it's not just about books. It's a community hub for people like Stanley to come and use the computer, or Chantal to study in peace. June's life has been on hold really and she hasn't been able to move on in the last 8 years and now the library is threatened with closure as so many are these days. So commences the campaign to save it, run by the very people who get so much out of the library.
This is such a gorgeous read. I never wanted to put it down. Freya Sampson has created a set of characters I wanted to know and an environment I wanted to be a part of. June is really timid and it was wonderful to watch her grow in confidence throughout the book and learn to take a chance on her future. I also found myself smiling at the warmth of the story and laughing sometimes too at some of the characters and the things they say and do, like Mrs B and her very forthright manner, or Vera who caused me to do a double-take at one point.
It's a bittersweet read in many ways. My local library was threatened with closure and is now run by volunteers and whilst it's brilliant that a community can work together in this way, it's such a shame that libraries aren't seen as essential services. It's also a story of loss and dealing with grief, and a reminder that there is so much more to a person than what is on the surface. The Last Library is a complete and utter joy to read from first page until last. It's written in a light and easy style but provides the reader with emotion and joy. I loved it so much.
---
---
Freya Sampson works in TV and was the creator and executive producer of Channel 4's Four in a Bed and Gogglesprogs. She studied History at Cambridge University and is a graduate of the Faber Academy. She lives in London with her husband, two young children and an antisocial cat. The Last Library is her debut novel.