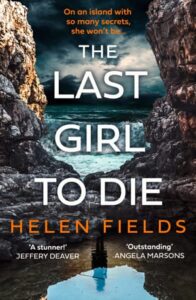 ShortBookandScribes #BookReview – The Last Girl to Die by Helen Fields
The Last Girl to Die by Helen Fields will be published on 1st September 2022 in paperback, eBook and audiobook by Avon. My thanks to the publishers for the proof copy of the book.
---

---
In search of a new life, seventeen-year-old Adriana Clark's family moves to the ancient, ocean-battered Isle of Mull, far off the coast of Scotland. Then she goes missing. Faced with hostile locals and indifferent police, her desperate parents turn to private investigator Sadie Levesque.

Sadie is the best at what she does. But when she finds Adriana's body in a cliffside cave, a seaweed crown carefully arranged on her head, she knows she's dealing with something she's never encountered before.

The deeper she digs into the island's secrets, the closer danger creeps – and the more urgent her quest to find the killer grows. Because what if Adriana is not the last girl to die?

Beautifully haunting with twists and turns you'll never see coming, The Last Girl to Die is your next obsession waiting to happen. Perfect for fans of Stuart MacBride and L.J. Ross.
---

---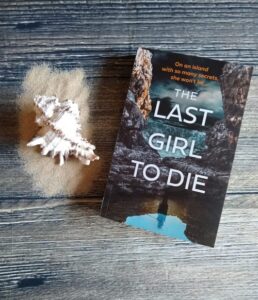 With The Last Girl to Die, Helen Fields takes a small town setting, legends and folklore to craft a story about the tragic death of a young outsider and the PI who is tasked with finding out what happened to her.
Sadie Levesque is a Canadian, brought to Mull by the missing girl's family to try and find her. Find her she does, but she's dead in a cave and there are some things with her body that are disturbing. From there it's a question of who to trust, who isn't what they seem, and as Sadie finds out more about the island's past, simply a question of why?
Sadie, telling the story in the first person, was not the easiest character to take to and her role as a private investigator basically meant sniffing around in other people's business and being extremely reckless which felt a little hard to get behind at times. She did grow on me as the story progressed though and there's no doubt she was an extremely brave and strong heroine. It got to the point where I didn't want to put this book down, so engrossed was I in the investigation that Sadie was conducting, and the situations she was putting herself in which almost had me wanting to read through my fingers. There are plenty of red herrings in this story and I didn't see the outcome until it was right in front of me. Fields is an immaculate plotter and always manages to keep me guessing. The overall ending was definitely unexpected!
I loved the fact that a few characters from Fields' other books featured in this one. It gave it a kind of authenticity, in a way almost like it was a real-life scenario. I'm always glad to come across such great characters. I also really liked the Scottish island setting, one of my favourite settings to read about in fiction. The whole suspicious community feel was so strong, coupled that with the superstition that abounded there, that I could easily imagine eyes following Sadie everywhere she went, speculating about her sticking her nose in where it wasn't wanted.
Whilst The Last Girl to Die felt slightly different to this author's other books, I really enjoyed it and found it a riveting and gruesome (trademark Fields) read, full of twists and turns and excitement galore.
---
---
Helen Fields studied law at the University of East Anglia, then went on to the Inns of Court School of Law in London. After completing her pupillage, she joined chambers in Middle Temple where she practised criminal and family law for thirteen years. After her second child was born, Helen left the Bar.
Together with her husband David, she runs a film production company. Perfect Remains is set in Scotland. Helen and her husband now live in Los Angeles with their three children and two dogs.