ShortBookandScribes #BookReview – The Last Act of Adam Campbell by Andy Jones #BlogTour
It's my stop on the blog tour for The Last Act of Adam Campbell by Andy Jones today. This is a such wonderful read. My thanks to Jenny Platt of Hodder for the copy of the book for review purposes and the place on the tour.
---

---
You don't need talent to join this group of actors. The ability to remember lines or stay awake throughout a performance is appreciated, but not essential. The only mandatory is a terminal diagnosis.

But Adam Campbell is less than enthusiastic about this eccentric form of group therapy. He has under one year to live, and a heck of lot to get done. Like explaining mortality to his six-year-old daughter. And making amends with the woman who should have been his wife.

The last thing Adam needs is a part in an amateur production of 'Shakespeare's Greatest Deaths'. But help and hope can be found where we least expect them. And perhaps camaraderie, and a shared purpose, will turn out to be the best medicine after all.

As Shakespeare, didn't quite put it: Shuffling off this mortal coil is a drag; but it's no reason to stop living.

The Cancer Ladies' Running Club meets The One Hundred Years of Lenni and Margot, The Last Act of Adam Campbell is a warm, poignant and wise tale about love, friendship, and making the most of every minute of life that we're granted.
---

---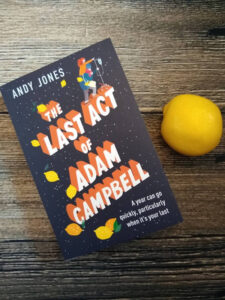 I didn't take too much notice of the synopsis of this book before deciding to read it. I love Andy Jones's writing and would read anything he writes so The Last Act of Adam Campbell was a must-read for me. Books about death and dying wouldn't necessarily be the first books I would seek out but the author writes such poignant scenes that he turned what could understandably be a very sad subject matter into something that, as a whole, is incredibly uplifting and beautifully written.
Whilst Adam is a major character this is actually an ensemble piece and it's a brilliant one at that. Adam joins a support group for people who are terminally ill and along with getting to know him, we also meet Tom, Laura, Pat, Vernon, Erin and Raymond. They are a disparate bunch, a variety of ages, temperaments and backgrounds, but the one thing they have in common makes them into a tight-knit little group and they have fun together when they embark upon producing a play based around deaths in Shakespeare plays.
Jones is such a wonderful writer and he's produced something really special with this book. There are lots of lump in the throat moments, and tears were shed several times too, but it also made me smile and it made me think. Each of the main characters has their own way of approaching their fate and I thought they were all portrayed perfectly (although I must admit to a particular soft spot for Pat) and in such a way that when the action changed from one to another I was never disappointed to leave one behind as I knew that each individual strand of the story was strong and powerful in its own right.
This is a book that is raw and honest and at times the way each character's illness affects them is hard to read, but at the same time I felt enriched by it and moved by the legacy that we have the ability to leave behind. I love a book that makes me cry because I know that it's really affected me and The Last Act of Adam Campbell certainly did that. This is a book and characters I won't forget.
---

---
---
---
In one form or another, Andy has always been a writer. At school, he passed notes in class and scribbled rude words on lampposts. At University, he wrote a PhD in biochemistry and forged tickets to various balls. And as an advertising copywriter, has written commercials for everything from baby food to booze. But it wasn't until he was well into his thirties that Andy stared writing fiction. If he could write a letter his younger self, it would urge him to stop messing about and get on with it.
Andy lives in London with his wife and two little girls. Chances are, he's writing something.