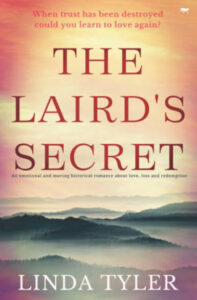 ShortBookandScribes #BookReview – The Laird's Secret by Linda Tyler
My review today is of The Laird's Secret by Linda Tyler which I really enjoyed. My thanks to the author for sending me a copy for review purposes.
---

---
When trust has been destroyed, could you learn to love again? 

In 1953 life is getting back to normal after the war and Christina Camble is one of those looking to the future. But her trust in men is destroyed when she discovers her fiancé has a wife and child. She gives up her job and flat in a bid to escape London and moves to Scotland, where she hopes to get her life back on the right track.

Christina's expectation of a peaceful life is interrupted when she meets handsome but reserved Alex MacDonald, the Laird of Craiglogie, a man physically scarred and emotionally wrecked by his experiences in World War Two. As Christina and Alex cautiously get to know one another, she soon finds herself embroiled in his life and living in his house.

Christina discovers she has made an enemy of family friend, Helen, who wants Alex for herself. As Helen sets her sights on Alex, she succeeds in driving a wedge between him and Christina.

Will Alex and Christina find their happy ever after, and is it possible for two damaged people to ever learn to love and trust again?
---

---
I was drawn to The Laird's Secret for two reasons. The first was that I find it hard to resist books set in Scotland and the second is that I love the promise of a good love story.
The book is set in 1953. The war is a recent memory, one that Alex MacDonald, the Laird of Craiglogie, recalls all too well. Christina Camble is visiting her friend in Scotland following the end of what turned out to be a difficult relationship. When the two meet they find themselves attracted to each other, but the path to true love might just be a rocky one.
There was so much I enjoyed about this book. The setting of course, as the author describes the landscape, from the countryside to the bright lights of Edinburgh so well. I could imagine Craiglogie House, Alex's family home, with its formal dining room, cosy sitting room, staff corridors and the like. I also really liked the way the story focused very much around Alex's farming and Christina's photography and the way each became more interested in the other's pursuits. There were some really lovely descriptions of both which allowed me to immerse myself in the lives of the characters.
Talking of the characters, I did sometimes feel a little frustrated with Christina who seemed to always think the worst, but she's also a really lovely person. I thought Alex was quite the swoon worthy hero, the local lord of the manor who couldn't be a nicer person (once he got over his awkwardness with Christina, that is) and might just happen to have some rippling biceps and muscular thighs!
The Laird's Secret is a charming and gentle romance, set in a gorgeous location. I felt like I was transported to 1950s Aberdeenshire, to a simpler rural way of life. I loved it.
---
---
Linda Tyler has read historical romance for almost as long as she can remember. So when she decided to write a novel, it had to be a romance set in the past.
Born in London, Linda moved progressively north until settling with her husband in a village on the edge of the Scottish Highlands – which provided the inspiration for The Laird's Secret. A former legal academic and practitioner, Linda has kept chickens, bred dogs and raised children. She now runs holiday accommodation, sings in a local choir and is walked daily by the family dog.