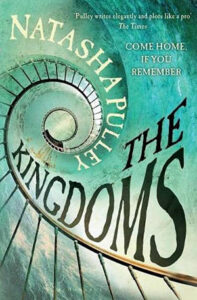 ShortBookandScribes #BookReview – The Kingdoms by Natasha Pulley
Today I'm sharing my thoughts about The Kingdoms by Natasha Pulley. My thanks to Emilie Chambeyron from Bloomsbury for the proof copy of the book for review purposes. The Kingdoms will be published in hardcover, eBook and audiobook tomorrow.
---

---
Come home, if you remember.

The postcard has been held at the sorting office for ninety-one years, waiting to be delivered to Joe Tournier. On the front is a lighthouse – Eilean Mor, in the Outer Hebrides.

Joe has never left England, never even left London. He is a British slave, one of thousands throughout the French Empire. He has a job, a wife, a baby daughter.

But he also has flashes of a life he cannot remember and of a world that never existed – a world where English is spoken in England, and not French.

And now he has a postcard of a lighthouse built just six months ago, that was first written nearly one hundred years ago, by a stranger who seems to know him very well.

Joe's journey to unravel the truth will take him from French-occupied London to a remote Scottish island, and back through time itself as he battles for his life – and for a very different future.
---

---
As soon as I read the synopsis of The Kingdoms I was utterly captivated by it. A lighthouse and a time-slip story? Yes, count me in.
The book begins in 1898 with Joe Tournier at the Gare du Roi train station in French-occupied Londres. Already this is a very different London to the one we know. Joe is confused but soon finds his way back to his home. Yet he remembers a different life, one that is in the outer reaches of his memory and which he cannot quite grab hold of. One day a postcard arrives for him that had been held for 91 years before it could be delivered to him. It shows a remote Scottish lighthouse and the message "Come home, if you remember". This message takes Joe on a life-changing adventure to try and work out who sent the postcard, and how.
The Kingdoms is something of a mind-bending book. As with The Watchmaker of Filigree Street, I must admit that some of it went over my head as it's so complex in its structure. But at the same time, there was never a point where I wished I wasn't reading it. I remained captivated by it throughout as I always am with books where the manipulation of time and the consequences of that play a big part. Natasha Pulley's plotting is brilliant, it has to be to pull all the threads together and make them work. She put me right there in the action, whether that was in the heart of 19th century battles or in an isolated and eerie lighthouse, with larger than life characters. They're not the most likeable of characters but I was invested in them. There's also a love story right at the very heart of the story and I loved that it was quite unconventional, especially for the time.
This is historical fantasy with enough that is real and recognisable to appeal to those who don't really like fantasy, like me. It's not an easy read, it requires concentration and thought and even then it might not all make sense. But it's also innovative, beautifully written, and very intricate in its construction. The Kingdoms won't appeal to everybody but if you have a curious mind and enjoy time travel and a love story then it's one for you.
---
---
Natasha Pulley studied English Literature at Oxford University. After stints working at Waterstones as a bookseller, then at Cambridge University Press as a publishing assistant in the astronomy and maths departments, she did the Creative Writing MA at UEA. She later studied in Tokyo, where she lived on a scholarship from the Daiwa Anglo-Japanese Foundation. She was chosen to be a Writer in Residence at Gladstone's Library and is now associate lecturer at Bath Spa University and panel tutor at the Cambridge University Institute of Continuing Education. Her first novel, The Watchmaker of Filigree Street, was an international bestseller, won a Betty Trask Award and was shortlisted for the Authors' Club Best First Novel Award. The Bedlam Stacks is her second novel. She lives in Bath.