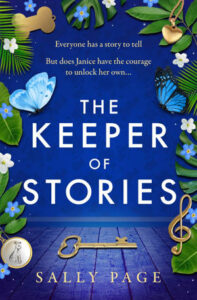 ShortBookandScribes #BookReview – The Keeper of Stories by Sally Page
My review today is of The Keeper of Stories by Sally Page. My thanks to One More Chapter for the proof copy of the book for review purposes. It will be published in eBook and audiobook on 28th February and in paperback on 17th March.
---

---
She can't recall what started her collection. Maybe it was in a fragment of conversation overheard as she cleaned a sink? Before long (as she dusted a sitting room or defrosted a fridge) she noticed people were telling her their stories. Perhaps they always had done, but now it is different, now the stories are reaching out to her and she gathers them to her…

When Janice starts cleaning for Mrs B – a shrewd and tricksy woman in her nineties – she meets someone who wants to hear her story. But Janice is clear: she is the keeper of stories, she doesn't have a story to tell. At least, not one she can share.

Mrs B is no fool and knows there is more to Janice than meets the eye. What is she hiding? After all, doesn't everyone have a story to tell?
---

---
Janice is a collector of stories. She's a cleaner in Cambridge, and it's mostly her clients who tell her stories that she stores away to provide solace to her at difficult times, not because they're all uplifting stories, more that they are there for Janice when she needs them. It's only when she starts cleaning for Mrs B that Janice realises that somebody might actually want to listen to her own story for a change and Mrs B gradually coaxes it out of her in a most skilful fashion.
The Keeper of Stories is a lovely debut novel. I loved Janice's story and the way she evolved throughout the book from a woman worn down by her circumstances to someone with such hope for the future. I really enjoyed the characterisations, particularly Janice's clients, both the delightful and the not so nice. All were portrayed brilliantly and I found myself smiling, either because they were so pleasant, or at Janice's wry observations about them. However, the star of the whole thing for me was Decius, the fox terrier who belongs to an unpleasant couple that Janice cleans for. Janice loves him so much and he's such a memorable character in this book. I think everybody needs a Decius!
The idea of collecting stories is what drew me to this book initially. I think it's quite a magical concept and it's a delightful read overall, a treasure trove of life experiences. This is a book with a number of different threads, some of them seemingly looser than others, but as they are all pulled together it is obvious that Sally Page has plotted this book incredibly well, drawing all the characters and their stories together to make something poignant, charming and a little bit quirky. I enjoyed it very much.
---
---
After studying history at university, Sally moved to London to work in advertising. In her spare time she studied floristry at night school and eventually opened her own flower shop. Sally came to appreciate that flower shops offer a unique window into people's stories and she began to photograph and write about this floral life in a series of non-fiction books. Later, Sally continued her interest in writing when she founded her fountain pen company, Plooms.co.uk.
In her debut novel, The Keeper of Stories, Sally combines her love of history and writing with her abiding interest in the stories people have to tell. Sally now lives in Dorset. Her eldest daughter, Alex, is studying to be a doctor and her youngest daughter is the author, Libby Page.
www.sallypage.com
Instagram: @bysallypage
Twitter: @sallypagebooks