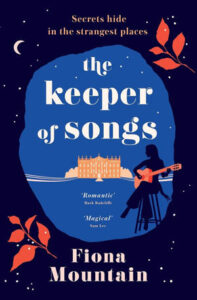 ShortBookandScribes #BookReview – The Keeper of Songs by Fiona Mountain
I'm delighted to be sharing my thoughts today about The Keeper of Songs by Fiona Mountain. My thanks to the author for the proof copy of the book for review purposes.
---

---
* A missing singer

* A doomed love story

* A family split by secrets & lies

1967: Enigmatic young folk singer Molly Marrison disappears on the cusp of fame.2002: Silva is working as a housemaid at Chatsworth House when her father suddenly dies, leaving her with one instruction – find Molly.

The only clue is a haunting song, centuries old, that Molly recorded before she vanished. Silva needs the help of song collector, Robbie Nightingale. Silva and Robbie were teenage sweethearts, but they've not spoken for decades. If they try to find Molly, what else will they discover? For Molly is not the only girl to have disappeared. Silva's mother, Sukey, vanished when Silva was a child, leaving her with scars that Robbie once tried but failed to heal.
---

---
As soon as I heard about The Keeper of Songs I knew I had to read it. I'd read Fiona Mountain's genealogy novels in the past and enjoyed them and I couldn't resist this new book which appealed for several reasons.
The first is that it's one of my favourite kinds of storylines, the dual timeline kind. In 1967 a young folk singer, Molly Marrison, is about to make it big when she suddenly disappears. In 2002, Silva's father dies and his last words are that she should "find Molly". How are these two strands linked?
Then there's the folk songs themselves, one of which in particular plays a huge part in the story. Silva enlists the help of Robbie, her first love, who she hasn't seen for years.
And the other, probably most compelling, reason for me enjoying this book is the setting of the Peak District and more specifically Chatsworth, a place not a million miles from where I live and one which I have visited many times over the years. Silva works as a housemaid there (which is more about conservation than scrubbing floors). I loved the sense of place, the descriptions of the rooms, gardens, the methods for looking after all the artefacts, and the way that Chatsworth is more than just a stately home, it's a community for everyone who works there. I feel like the author must have done so much research and it really showed. Blue John Stone, which is only found in the caverns of Castleton, also plays a big part and I found it all absolutely fascinating.
This is a really lovely read, tying together local history through folk songs and folklore, with bittersweet love stories that echo down through the generations. As is often the case, I enjoyed the more contemporary story most of all. I think it's because I like the characters to delve into the past and discover long-lost secrets. But I very much enjoyed the book as a whole and thought the author did a wonderful job at bringing it all together and creating a truly enchanting read.
---
---
Fiona has written five novels, which have been published around the world, including America, Canada, Australia, Italy, Germany, Holland, Japan and Thailand.
Fiona's first novel, 'Isabella' tells the haunting love story of Bounty mutineer Fletcher Christian and his cousin, Isabella Curwen and was shortlisted for the Romantic Novel of the Year Award. It was followed with 'Pale as the Dead' and 'Bloodline', which combine history with mystery and feature 'ancestor detective', Natasha Blake. 'Bloodline' is the winner of the prestigious Mary Higgins Clark Award from the Mystery Writers of America. It's also been optioned by Leonard Goldberg, (producer of TV classics such as Charlie's Angles and Starsky and Hutch).
'Lady of the Butterflies' (also published as Rebel Heiress) is based on the true story of Lady Eleanor Glanville, the pioneering butterfly collector. The Glanville Fritillary is named after her, but she is best remembered for the fact that her relations overturned her will on the grounds that no sane person would 'go in pursuit of butterflies'. 'Cavalier Queen' is an epic historical novel about the lives and loves of Charles I's queen, Henrietta Maria, an English 'Gone With the Wind'.
Fiona grew up in Sheffield and moved to London aged eighteen where she worked for the BBC, in the press office for Radio 1, handling publicity for presenters including John Peel, Mark Radlcliffe, Pete Tong, and Simon Mayo, traveling with the Radio 1 Summer Roadshow and hanging out with rock stars! Fiona lives in the Cotswolds with her family.
Her new book, 'The Keeper of Songs' will be published in 2021.