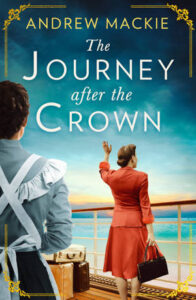 ShortBookandScribes #BookReview – The Journey After the Crown by Andrew Mackie
Today I'm sharing my thoughts about The Journey After the Crown by Andrew Mackie which was published by HQ on 14th April. My thanks to the publishers for the review copy of the book.
---

---
A young Queen. Two sisters. A voyage that will change their fates forever.

Nineteen-year-old identical twins Violet and Daisie Chettle can hardly believe their luck when they are recruited as maids on newly crowned Queen Elizabeth II's royal ship.

It's just the ticket they need away from cold, grey London and the tension that's been brewing at home since the tragic loss of their parents.

But the 1954 royal tour to Australia, is a far cry from the glitz and glamour they had imagined. Life below deck is hard-work, and whilst Violet is prepared to keep her head down and be seen and not heard, Daisie has her sights on doing everything she can to hang up her apron and mingle above deck – even if it means leaving Violet behind.

But as Daisie begins to win royal favour, she receives a letter from London. The sisters can't outrun their past any longer… Violet has committed an unspeakable act of betrayal that will change their relationship forever.

With their positions on the tour hanging in the balance, have the sisters ventured too far from home to ever find their way back?

Set against the stunning backdrop of Queen Elizabeth's first royal tour with Prince Phillip prepare to be swept away with this upstairs-downstairs drama, perfect for fans of The Crown and Downton Abbey
---

---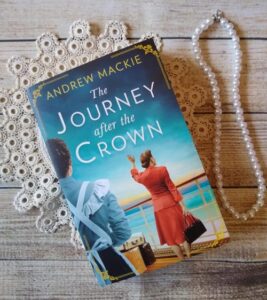 The Queen and Prince Philip's tour of Australia in 1954 remains the biggest single event ever planned in Australia. Andrew Mackie reimagines it with twin sisters, Violet and Daisie Chettle, as the main characters. After tragedy strikes they find themselves taking up positions as maids on the royal tour. As I suspect is often the case with twins, Daisie and Violet are not that alike, except in their identical looks. Whilst Daisie sets out to get what she wants at all costs, Violet is the sort of person that lets things happen to her.
I really enjoyed this book. I liked all the details of the tour, both the few bits that are known fact and the fictionalised parts. I don't know if so much scandal actually happened on the tour but I experienced quite a few hand over the mouth moments.
The tour was an epic one which lasted for six months and I found it fascinating to follow it via the SS Gothic and then around the whole of Australia. It's rich with detail and portrays well the difference between the upper and lower classes. The royal couple do not feature heavily but when they did it added an extra layer of interest. I can't imagine what it must have been like being on show in a foreign country for six months and how it must have felt to serve them during that time, but this book certainly gave me an insight into a royal tour from both perspectives.
This is a great premise for a book. Stories that mix fact and fiction in this way always capture my attention and imagination, and The Journey After the Crown takes a huge public event and considers what was happening in private. Whilst it took me a little settling into Violet and Daisie's stories, I was soon riveted by their journey to the other side of the world. A very enjoyable read for fans of The Crown and historical fiction.
---
---
ANDREW MACKIE is a film distributor and producer.  His company Transmission Films acquired and released such indie hits as The King's Speech and Lion.  His executive producer credits include Ride Like A Girl, Tracks, Candy, Sweet Country, Holding the Man and On Chesil Beach.  In 2012 and 2013 The Australian named him one of the twenty-five most influential people in the Australian arts.  Andrew has always been fascinated by all things royal and has long felt that the Queen's tour of Australian in 1954 was ripe with dramatic potential.  The Tour is his first novel.