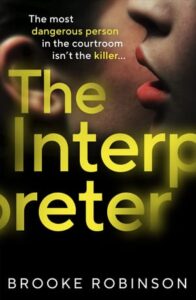 ShortBookandScribes #BookReview – The Interpreter by Brooke Robinson
The Interpreter by Brooke Robinson was published by Harvill Secker on 8th June in hardcover, ebook and audiobook. My thanks to Graeme Williams, the publishers and Tandem Collective for the proof pack.
---

---
THE MOST DANGEROUS PERSON IN THE COURTROOM ISN'T THE KILLER…

'An ingenious premise, cleverly executed' Sunday Times bestseller Sabine Durrant
'Compelling and ingenious' Prima Magazine

'Clever, atmospheric and utterly absorbing' Alice Clark-Platts, author of The Cove


Single mother Revelle Lee is an interpreter who spends her days translating for victims, witnesses and the accused across London. Only she knows what they're saying. Only she knows the truth.

When she believes a grave injustice is about to occur, and a guilty man is going to be labelled innocent, she has the power to twist an alibi to get the verdict she wants. She's willing to risk it all to do what's right.

But when someone discovers she lied, Revelle finds the cost might be too high… and she could lose everything, including her son.

Discover the shocking, unguessable debut thriller for fans of Louise Candlish, Harriet Tyce and Sarah Vaughan
---

---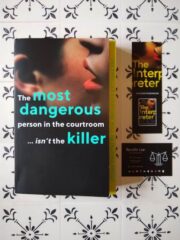 The Interpreter of the title is Revelle Lee. She's fluent in many languages and her work means she is often called on to interpret at police stations and in the courtroom. Quite often, she's the only person who understands the language she is interpreting which puts her in a position of immense power and in a moment of madness, she misinterprets something on purpose in the belief that it will put right a wrong. Revelle is also in the midst of adopting a six year old boy, Elliot, and she's playing with fire as any sign of wrongdoing could mean the adoption is cancelled which adds an extra layer of tension.
I'd never given any thought to the role of an interpreter and how much power it gives them but as soon as I heard about this book I knew I wanted to read it. With a tagline like 'The most dangerous person in the courtroom…isn't the killer' I couldn't resist and I thought it was a fantastic read. For me it falls between psychological fiction and domestic drama which is absolutely my thing. I found it to be compelling reading and I was totally absorbed by Revelle's actions which were often irrational to the point that I wanted to reach into the book, grab hold of her and ask her what the hell she was playing at.
There's a moral dilemma at the heart of the story: if you believe an injustice is taking place should you risk everything to stop it happening? Of course, the obvious answer is that Revelle should translate everything exactly as she hears it but it's certainly an angle that made me think. Add in a past mistake and an unknown voice from someone who appears to be watching Revelle and it makes for a really taut and clever read with a fresh perspective I haven't come across before. The Interpreter is an excellent debut novel from Brooke Robinson and I'm eager to see what comes next.
---
---
Brooke Robinson grew up in Sydney and as a playwright, has had numerous plays commissioned and produced in her native Australia. In the UK, her work has been shown at the Old Vic theatre and London's Vault Festival. She studied drama at RADA (The Royal Academy of Dramatic Arts) and City, University of London. The Interpreter is her debut novel.