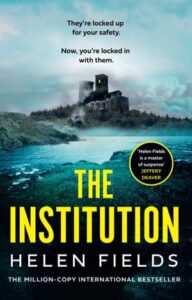 ShortBookandScribes #BookReview – The Institution by Helen Fields
The Institution by Helen Fields, one of my favourite thriller writers, will be published by Avon on 2nd March in hardcover, eBook and audiobook. The first print run is a special collector's edition with a printed design on the yellow cover board and it's only £7.49 on Amazon at the moment.
My thanks to the publishers for the proof and finished copies of the book.
---

---
They're locked up for your safety.
Now, you're locked in with them.

Dr Connie Woolwine has five days to catch a killer.

On a locked ward in the world's highest-security prison hospital, a scream shatters the night. The next morning, a nurse's body is found and her daughter has been taken. A ransom must be paid, and the clock is ticking.

Forensic profiler Dr Connie Woolwine is renowned for her ability to get inside the mind of a murderer. Now, she must go deep undercover among the most deranged and dangerous men on earth and use her unique skills to find the girl – before it's too late.

But as the walls close in around her, can Connie get the killer before The Institution gets her?

A claustrophobic, haunting crime thriller that will keep you up at night, perfect for those who couldn't put down The Sanatorium and Amy McCulloch's Breathless.
---

---
When I read The Shadow Man I was really hoping for another book featuring Dr Connie Woolwine, a fiercely clever forensic profiler, and here it is. The Institution is a locked-room mystery with terror and a cloying sense of claustrophobia at its core.
Connie is taken to the remote and isolated towers of The Institution by helicopter to work undercover in a place occupied by some of the most dangerous serial killers. Her task is to discover who killed Nurse Tara Cameron and stole her baby, and time is running out. Connie's own past is working against her though, and that plus the suspicion of the staff and patients makes her job an extremely difficult one.
As always, Helen Fields drops the reader right into the action and the momentum never lets up. The finer details of Tara's death, and the information Connie finds out about the patients' crimes, are shocking and disturbing. Being thrust straight into The Institution offered me a parallel view to that of Connie, hitting the ground running, but it also meant that I felt like I had a bit of settling in of my own to do. Once I had (and it happened quickly) I found this book hard to put down. I had a few ideas as to the killer but honestly, it could have been anyone in that place.
Fields is a superb writer and a master plotter. Connie is an amazing heroine and I found her psychological insights fascinating. The Institution itself is steeped in menace and as the story progresses the insidious sensation just grows and grows. There are quite a few hairy moments! This is a fabulously dark and sinister, totally gripping read. More Connie Woolwine please.
---
---
Helen Fields studied law at the University of East Anglia, then went on to the Inns of Court School of Law in London. After completing her pupillage, she joined chambers in Middle Temple where she practised criminal and family law for thirteen years. After her second child was born, Helen left the Bar.
Together with her husband David, she runs a film production company. Perfect Remains is set in Scotland. Helen and her husband now live in Los Angeles with their three children and two dogs.