ShortBookandScribes #BookReview – The Inheritance of Solomon Farthing by Mary Paulson-Ellis @MantleBooks
I'm so happy to have finally got around to reading this book. I pretty much knew I would love it but it's a big book and I needed a chunk of time to read it which I found over Christmas. My thanks (and apologies for the delay) to Rosie Wilson from Mantle for sending me a proof copy for review purposes.
---

From TheTimes bestselling author of The Other Mrs Walker – Waterstones Scottish Book of the Year 2017 – comes Mary Paulson-Ellis's second stunning historical mystery, The Inheritance of Solomon Farthing.

Solomon knew that he had one advantage. A pawn ticket belonging to a dead man tucked into his top pocket – the only clue to the truth . . .

An old soldier dies alone in his Edinburgh nursing home. No known relatives, and no Will to enact. Just a pawn ticket found amongst his belongings, and fifty thousand pounds in used notes sewn into the lining of his burial suit . . .

Heir Hunter, Solomon Farthing – down on his luck, until, perhaps, now – is tipped off on this unexplained fortune. Armed with only the deceased's name and the crumpled pawn ticket, he must find the dead man's closest living relative if he is to get a cut of this much-needed cash.

But in trawling through the deceased's family tree, Solomon uncovers a mystery that goes back to 1918 and a group of eleven soldiers abandoned in a farmhouse billet in France in the weeks leading up to the armistice.

Set between contemporary Edinburgh and the final brutal days of the First World War as the soldiers await their orders, The Inheritance of Solomon Farthing shows us how the debts of the present can never be settled unless those of the past have been paid first . . .
---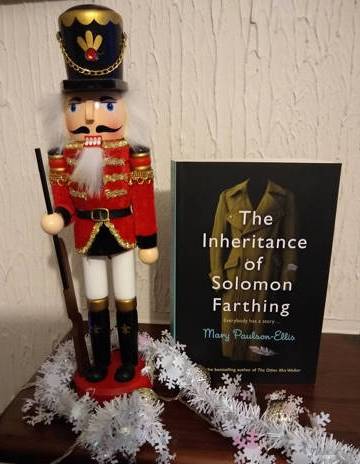 Wow! Yes, this is a wow book and I'm pretty sure it has just marched onto my favourite books of the year list.
I'm finding that books set during the First World War are really capturing my attention these days and parts of this book are set in the final days of that conflict when Captain Godfrey Farthing and his comrades are waiting for orders, wondering if they will come before the bells ring to signify the end of the war. Godfrey wants to keep his company safe if at all possible, without disobeying orders.
The other strand of the story follows Godfrey's grandson, Solomon, in 2016. He's an heir hunter tasked to find out if a recently deceased man had any next of kin. If books set in World War One are particular favourites for me then most definitely so are genealogical ones with investigations into family trees and long lost relatives.
What a perfect combination, therefore, The Inheritance of Solomon Farthing is. It is plotted beautifully so as to tie all the strands in without doing so in a really obvious way. It's a companion piece to The Other Mrs Walker, Mary Paulson-Ellis's first book, and I really enjoyed the way characters from the book popped up in this one. As with that first book this is one that ideally needs reading and then reading again to fully slot all the pieces together. I love a book that is like a jigsaw puzzle but it also means that greater concentration is needed and a fair amount of flicking backwards to put it all into its place. That is absolutely not a negative point though as I found it completely enthralling from beginning to end. It's a real voyage of discovery.
This is a big book at just over 500 pages but not for a moment was I tempted to rush it. The author has done a magnificent job at portraying the emotion of the war both through the minds and actions of soldiers at the time and also in looking at what happened afterwards and how the effects rippled down through the generations.
This is my kind of read. Deliciously complex, moving and thoughtful, I spent the last few pages in tears as all the threads were pulled together to the conclusion. Paulson-Ellis is a very talented writer. I can't wait to see what she comes up with next.
---

Mary Paulson-Ellis lives in Edinburgh. She has an MLitt in Creative Writing from the University of Glasgow and was awarded the inaugural Curtis Brown Prize for Fiction in 2009 and the Literature Works First Page Prize in 2013. Her debut novel, The Other Mrs Walker was a Times bestseller and Waterstones Scottish Book of the Year. Mary was Highly Commended as a Rising Star in the DIVA Literary Awards and shortlisted as a Breakthrough Author in the Books Are My Bag Readers Awards 2017. In 2016 she was named an Amazon Rising Star. The Inheritance of Solomon Farthing is her second novel.