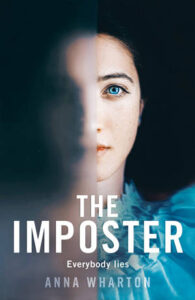 ShortBookandScribes #BookReview – The Imposter by Anna Wharton
I'm sharing my thoughts today about The Imposter by Anna Wharton. My thanks to Rosie Wilson of Mantle for the proof copy of the book for review purposes. It will be published in hardcover, ebook and audiobook on 1st April.
---

---
They say you can't choose your family . . . But what if they're wrong?

Chloe lives a quiet life. Working as a newspaper archivist in the day and taking care of her nan in the evening, she's happy simply to read about the lives of others as she files the news clippings from the safety of her desk.

But there's one story that she can't stop thinking about. The case of Angie Kyle – a girl, Chloe's age, who went missing as a child. A girl whose parents never gave up hope.

When Chloe's nan is moved into care, leaving Chloe on the brink of homelessness, she takes a desperate step: answering an ad to be a lodger in the missing girl's family home. It could be the perfect opportunity to get closer to the story she's read so much about. But it's not long until she realizes this couple isn't all they seem. In a house where everyone has something to hide, is it possible to get too close?

Anna Wharton's debut, The Imposter, is a thought-provoking story of obsession, loneliness and the lies we tell ourselves in order to live with ourselves.
---

---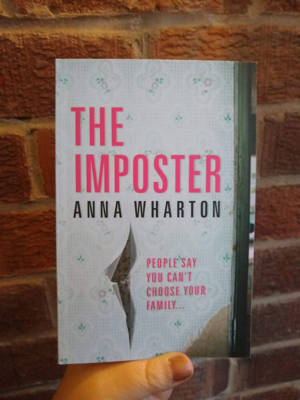 There was something about the premise of The Imposter that immediately grabbed my attention. The thought of this woman, Chloe, living a quiet life working in a newspaper archive (a job I imagine to be quite solitary) and living with her Nan, but becoming embroiled in a story she came across at work, that of a 4 year old girl, Angie, who went missing 25 years ago and has never been seen since. Something about this story makes her unable to let go of it.
I feel like this is a book of three parts. The first part is quite calm as we follow Chloe going to and from her desk and see her trying to look after Nan who has dementia. Then the tension really goes up a gear from just before the halfway mark when Chloe, through a series of quite unexpected events, ends up living with the missing girl's parents, Maureen and Patrick. I found at this point I was whipping the pages by as quickly as I could, desperate to know what was going to happen next. The historical 'crime' intermingles in a quite unsettling way with the current day story. And then there's the finale which held some surprises as it didn't turn out as I expected (in a good way).
Although there's a strong plot, I think this is a more character-driven story that looks at loss and loneliness and how those emotions manifest themselves. The characterisations are really effective and I felt like I was right there in the story.
The Imposter is a fabulous debut from Anna Wharton. There's such a sense of unease about it with oppressive settings that pop off the page and add to that feeling. At times I was thinking to myself, "what on earth are you playing at, Chloe?" as my heart thudded away, but then not everything is as it seems in this story and that's where its power comes from. I flew through this 400 page book, totally engrossed in the quiet, yet gripping, action. I thought it was excellent.
---
---
Anna Wharton has been a print and broadcast journalist for more than twenty years, writing for newspapers including The Times, Guardian, Sunday Times Magazine, Grazia and Red. She was formally an executive editor at The Daily Mail. Anna has ghostwritten four memoirs including the Sunday Times Bestseller Somebody I Used To Know and Orwell Prize longlisted CUT: One Woman's Fight Against FGM in Britain Today. The Imposter is her first novel.