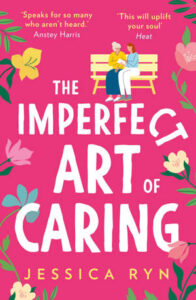 ShortBookandScribes #BookReview – The Imperfect Art of Caring by Jessica Ryn
My review today is of The Imperfect Art of Caring by Jessica Ryn. My thanks to HQ for the proof copy of the book which is published in paperback tomorrow.
---

---
One small act can make a big difference

Violet Strong is strong by name but not by nature, or so she thinks. She listens but never talks about herself. She's friendly but doesn't have many real friends. She's become good at keeping people at a distance ever since she left home at eighteen and never looked back.

But when Violet is forced to return home to care for her estranged mother, Glenys, she quickly finds out that life as a carer isn't easy. Feeling overwhelmed, she's forced to turn to the other local carers, including childhood friend, Adam, for help.

Although returning home still feels like a mistake, maybe it will help Violet right some wrongs. After all, she can't keep running from her past forever, and in learning to look after others, perhaps Violet can start to finally love herself…
---

---
Jessica Ryn's second book, The Imperfect Art of Caring, is as warm-hearted and joyful as her first, The Extraordinary Hope of Dawn Brightside. Focusing on loneliness, and in particular the kind that comes with being a carer, I found it both moving and uplifting.
Violet Strong thinks she isn't as strong as her name suggests. After hiding herself away for the last fourteen years following a difficult time in her teens, she returns reluctantly to her home village to act as carer for her mum. Planning to only stay for a while, she finds herself slowly putting down roots again, meeting old friends and new, and becoming part of a community.
I love a book where I feel like I want to dive in and be a part of it.  Violet and other carers that she meets have a demanding and challenging role to play, but they're all so lovely that I wished they were my friends. Violet is kind and thoughtful and as she reaches out, asks for help and meets other people in the same boat, she grows as a person. Whilst most of the story is from Violet's perspective, there are also chapters about Tammy, a young woman who lives in the same flats as Violet's mum, Glenys. She goes through the biggest transformation of all and I loved her for it.
The village near Brighton where Glenys lives sounds like many villages: once thriving, it only took one bad thing to happen to put it into a decline. Despite that, I thought it sounded like a delightful place to live. I'd use the word delightful to describe this whole book, in fact. I became immersed in this story of people coming together, dispelling loneliness and promoting kindness and friendship, and I enjoyed every single minute I spent reading it. Jessica Ryn has become an author whose books I would pick up without knowing anything about them. She's a writer who is adept at getting to the heart of human emotions, producing gentle and emotive stories that make me feel all warm and cosy.
---
---
Jessica Ryn is a former midwife and homeless resettlement worker. She has recently completed her MA in Creative Writing at CCCU, and her stories have been shortlisted for the Kimberly Chambers' Kickstarter Award, Wordsmag and the Val Wood Prize for Creative Writing. When she's not scribbling away, Jessica can be found meandering through the woods, reading stories that pull on the feel-strings and eating yoghurt-covered skittles. Jessica lives in Dover with her husband, two children and their high-spirited springer spaniel. The Extraordinary Hope of Dawn Brightside was her debut novel.