ShortBookandScribes #BookReview – The Illustrated Child by Polly Crosby
My review today is of The Illustrated Child by Polly Crosby which will be published in hardback and ebook on 29th October. My thanks to HQ for sending me a gorgeous proof copy of the book for review purposes.
---

---
Romilly lives in a ramshackle house with her eccentric artist father and her cat, Monty. She knows little about her past – but she knows that she is loved.

When her father finds fame with a series of children's books starring her as the main character, everything changes: exotic foods appear on the table, her father appears on TV, and strangers appear at their door, convinced the books contain a treasure hunt leading to a glittering prize.

But as time passes, Romilly's father becomes increasingly suspicious of everything around him, until, before her eyes, he begins to disappear altogether.

In her increasingly isolated world, Romilly turns to the secrets her father has hidden in his illustrated books, realising that there is something far darker and more devastating locked within the pages…

The truth.

The Illustrated Child is the unforgettable, beguiling debut from Polly Crosby.
---

---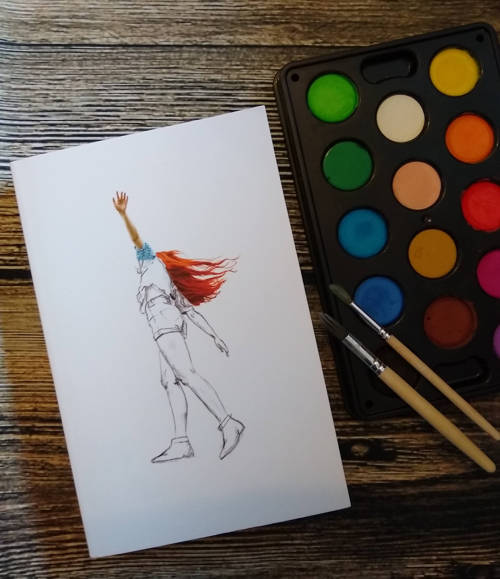 I've seen other reviewers say they weren't quite sure what to expect when they picked up The Illustrated Child and I was the same. It definitely wasn't what I was anticipating.
Romilly is only a young girl as the story begins, living with her father in a rundown house called Braër. Her father, Tobias, writes and illustrates a series of books with Romilly as the main character, along with her cat, Monty. He's a man of huge talent and he creates a magical world for a child to live in, but he's also a difficult man, and they live a most unconventional life together.
The book takes us through Romilly's life until she is a teenager and through many ups and downs, highs and lows. It's a tough book to read at times, as there is a fine line between the magic created by Tobias and child neglect. The reader can see what is happening but Romilly, as the protagonist, cannot.
I really enjoyed the way the story unfolded as Romilly found out some truths about her family and the people who loved her. Polly Crosby is a masterful plotter and a beautiful writer and she has written a very special debut novel with The Illustrated Child. However, I would say that it's a lot darker than I anticipated with some scenes that had me feeling quite uncomfortable, and it's quite possible it was just a bit too dark for me personally. It also has an otherworldly feel to it that again is rather out of my comfort zone and so certain aspects of the story didn't quite work for me. Where I was expecting a childhood of countryside romps and treasure hunts, the reality is a sad story of ill-health and lack of care.
This book won't be for everyone and I would say definitely don't go into it unless you are prepared for a quite bleak story with some ominous undertones. But if you want to read a story that is like a treasure hunt in itself, a coming of age story that is meticulously executed and at times disturbing, then The Illustrated Child is the perfect choice.
---
---
Polly Crosby grew up on the Suffolk coast, and now lives with her husband and son in the heart of Norfolk.
Her first novel, The Illustrated Child, is out on 29th October.
In 2018, Polly won Curtis Brown Creative's Yesterday Scholarship, which enabled her to finish her novel. Later the same year, The Illustrated Child was awarded runner-up in the Bridport Prize's Peggy Chapman Andrews Award for a First Novel. Polly received the Annabel Abbs Creative Writing Scholarship at the University of East Anglia, and is currently working on her second novel.