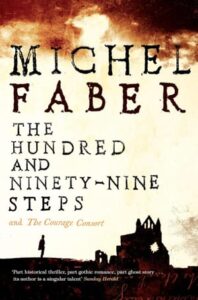 ShortBookandScribes #BookReview – The Hundred and Ninety-Nine Steps by Michel Faber
I've had The Hundred and Ninety-Nine Steps by Michel Faber on my TBR pile for quite a long time. I actually rediscovered it when I was going through some boxes of books and it was just the ticket for the end of my October reading. It's published by Canongate and is available in paperback and eBook.
---

---
Siân, troubled by dark dreams and seeking distraction, joins an archaeological dig at Whitby. The abbey's one hundred and ninety-nine steps link the twenty-first century with the ruins of the past and Siân is swept into a mystery involving a long-hidden murder, a fragile manuscript in a bottle and a cast of most peculiar characters. Equal parts historical thriller, romance and ghost story, this is an ingenious literary page-turner and is completely unforgettable.
---

---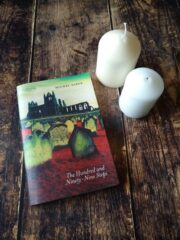 The Hundred and Ninety-Nine Steps was the perfect book when I wanted a quick read but even though it's short (116 pages) it still packs plenty in. Siân is in Whitby after joining the archaeological dig being undertaken at the Abbey to excavate sixty skeletons from the grounds. Pausing for a moment half way up the steps, she meets Magnus and his dog, Hadrian. Not only do the pair bring some level of companionship to Siân, but Magnus also provides her with a historical artefact containing a mystery which gives her a chance to use her skills as a conservator.
This is such an engaging and well-written novella. Obviously, the setting is a big part of what makes it special, offering the centuries of historical importance of Whitby Abbey against the backdrop of the beautiful seaside town. Alongside this is the story itself, which is perfectly formed and was of so much interest to me. I loved the contemporary narrative and the friendship between Siân and Magnus (not forgetting the wondrous Hadrian) next to the historical discoveries. Siân herself is a woman of some mystery and the progression of the story offers explanations for so much of the way she is. I liked Magnus and I'm enjoying thinking about how the two characters' relationship may have progressed beyond the end of the novella.
I now have an urge to revisit Whitby but in the meantime this book has been a little gem of a read.
---
---
Michel Faber has written nine books. In addition to the Whitbread-shortlisted Under the Skin, he is the author of the highly acclaimed The Crimson Petal and the White, The Book of Strange New Things, which was shortlisted for the Arthur C. Clarke Award and won the 2015 Saltire Book of the Year, and most recently Undying, his first poetry collection. Born in Holland, brought up in Australia, he now lives in the UK.