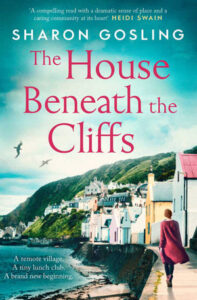 ShortBookandScribes #BookReview – The House Beneath the Cliffs by Sharon Gosling
Today's review is of The House Beneath the Cliffs by Sharon Gosling, a book that was right up my remote Scottish street. My thanks to Sara-Jade from Books and the City/Simon & Schuster for the review copy of the book.
---

---
A remote yet beautiful village. A tiny kitchen lunch club. The perfect place to start again.

Anna moves to Crovie, a tiny fishing village on the Moray Firth, for a fresh start. But when she arrives, she realises her new home is really no more than a shed, and the village itself sits beneath a cliff right on the edge of the sea, in constant danger of storms and landslides. Has she made a terrible mistake?

Yet as she begins to learn about the Scottish coast and its people, something she thought she'd lost reawakens in her. She rediscovers her love of cooking, and turns her kitchen into a pop-up lunch club. But not all the locals are delighted about her arrival, and some are keen to see her plans fail.

Will Anna really be able to put down roots in this remote and wild village? Or will her fragile new beginning start to crumble with the cliffs . . . ?

Beautiful, moving and utterly absorbing, The House Beneath the Cliffs is a novel of friendship and food, storms and secrets, and the beauty of second chances
---

---
If I am drawn to any settings in particular it's always remote ones so The House Beneath the Cliffs appealed to me as soon as I heard about it. The setting is the small fishing village of Crovie (pronounced Crivvie) on the Moray Firth in Scotland. From the outset, when Anna Campbell arrives there at her new home called The Fishergirl's Luck, I was completely captivated by the place, a small string of houses built right at the edge of the sea and beneath a cliff.
Anna is kind of escaping from her life. Her long term relationship with well-known chef, Geoff Rowcliffe, has broken down and it's clear that he totally demoralised her during the 20 years they were together, despite her being just as good a chef as him. She meets new people in Crovie and starts to become part of the tiny, and mostly welcoming, community. Of course, there's always some who don't take to newcomers but by and large Anna starts to feel very happy in her new home and sets up a successful pop up lunch club outside her little shed.
There's most definitely a sense of living the dream with this book and it has a very romantic feel to it in that respect but the author portrays the fact that it's a harsh life at times very effectively. Living that close to the sea is beautiful but also completely destructive in a storm and the prospect of that is never far from the minds of the residents. I really came to care about each of them and was moved to tears at their plight at times.
The House Beneath the Cliffs is an absolutely gorgeous read. It's light and easy to enjoy, yet beautifully emotive, with themes of grief and manipulation entwined with the joy of seeing Anna make a new life for herself in a place that gets under her skin (mine too!). I thought it was really special story with a setting that was brought to life for me through the author's words, and with characters I loved and whose community I wanted to join. This tale of new beginnings made my heart sing. I absolutely loved this book which will easily be one of my favourites of the year.
---
---
Sharon started her career as an entertainment journalist, writing non-fiction books about film and television. She is also the author of multiple children's books. Sharon and her husband live in a small village in northern Cumbria. She can be found on Twitter @sharongosling.