ShortBookandScribes #BookReview – The Hotel Where We Met by Belinda Jones
I'm super happy today to be sharing my review of The Hotel Where We Met by Belinda Jones. My thanks to the author for sending me a copy of the book for review purposes.
---
A gorgeous heart-twirling page-turner from Sunday Times Top 10 Bestselling author of The California Club.

There's a very particular reason why Chloe Sinclair has not met her Mr Right – he doesn't exist. And the reason he doesn't exist is because the right couples in history did not get together.

It now falls to Chloe to travel back in time to matchmake like her love-life depended on it.

Each of Chloe's trips revolves around the iconic Hotel Del Coronado – part historic landmark, part Californian fairytale.

Here she experiences the Victorian era when the doors first opened, the Roaring Twenties, Fabulous Fifties during the filming of Some Like It Hot and the Get-Into-The-Groove Eighties.

A very special friendship has guided Chloe to this point but the adventures go way beyond her wildest imaginings and she soon learns that, when it comes to love, it's all in the timing.
---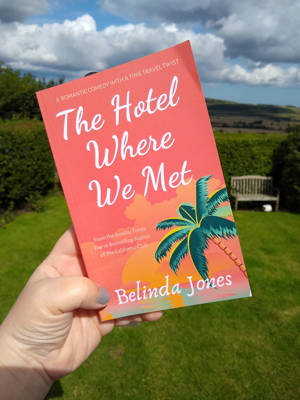 I'm a big fan of Belinda Jones's books, mainly because they always have a travel theme and I love to be whisked away with my fiction. It's been a while since her last book but I was thrilled to see that she had a new one out, The Hotel Where We Met, and not only that, it has a time travel theme. Oh be still my beating heart. A travel fiction/time travel mix?! Perfect!
In this book we meet Chloe Sinclair. She's travelling to the iconic Hotel del Coronado in California to meet up with Ross, her late best friend James's former boyfriend. They're going to say goodbye to James at places that were important to him and Ross. Chloe is unlucky in love but something very interesting happens to her on the flight and she finds herself travelling back in time to try and match-make certain couples because the right man for her has never existed because the right people didn't get together in the first place. What a wonderful and inspired concept and to do it in such gorgeous surroundings made for a brilliant and engaging story.
Chloe travels to the 1880s, the 1920s, the 1950s and the 1980s. I think the 50s was my favourite of the eras, not least because the hotel is where Some Like It Hot was filmed and there's some lovely Marilyn Monroe scenes. The 1980s was lovely too though because of the way it affected the characters. I loved all of them though and Chloe's adventures in each era had me smiling.
Belinda Jones always has me wanting to visit the places she writes about. She portrays them in such an enticing manner that I want to jump on a plane straightaway (and I'm not a jumping on a plane type of person). The Hotel del Coronado and the surrounding area sound absolutely perfect. I loved the characters too. Chloe is such a kind and lovely person and her friendship with James, and later Ross, were so warm, the kind of friendships we all aspire to have.
The Hotel Where We Met is the perfect escape novel. I found it a joy from start to finish. I really enjoyed the detail of each of the different eras and how Chloe dealt with them. It's light-hearted yet not fluffy and is the perfect way to satisfy that wanderlust without even leaving the comfort of your own settee. I absolutely loved it.
---