ShortBookandScribes #BookReview – The Harpy by Megan Hunter
My review today is of The Harpy by Megan Hunter which was published in hardback on 3rd September. My thanks to Camilla Elworthy at Picador for sending me a proof copy for review purposes.
---

---
Lucy and Jake live in a house by a field where the sun burns like a ball of fire. Lucy works from home but devotes her life to the children, to their finely tuned routine, and to the house itself, which comforts her like an old, sly friend. But then a man calls one afternoon with a shattering message: his wife has been having an affair with Lucy's husband, he wants her to know.

The revelation marks a turning point: Lucy and Jake decide to stay together, but in a special arrangement designed to even the score and save their marriage, she will hurt him three times. Jake will not know when the hurt is coming, nor what form it will take.

As the couple submit to a delicate game of crime and punishment, Lucy herself begins to change, surrendering to a transformation of both mind and body from which there is no return.

Told in dazzling, musical prose, The Harpy by Megan Hunter is a dark, staggering fairy tale, at once mythical and otherworldly and fiercely contemporary. It is a novel of love, marriage and its failures, of power and revenge, of metamorphosis and renewal.
---

---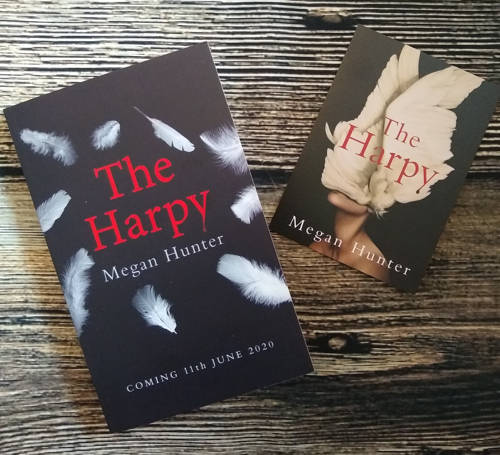 A harpy is a mythological creature, one with a woman's head and body and a bird's wings and claws. Lucy, our protagonist, has long been fascinated by the harpy, a creature who punishes men for the things they do.
Lucy and Jake seem to have a happy life with their two young boys until the day a man calls Lucy and tells her Jake is having an affair with his wife. From then she becomes focused on punishing him three times (this is what they agree).
This is a short book but there is so much feeling contained within the pages. Lucy tells her story in a matter of fact way and yet her emotion at Jake's betrayal is almost tangible. It jumps off the page at the reader.
I really liked the style of this book, the everyday life punctuated by Lucy's acts of revenge. Where it didn't quite work for me were the mythological aspects, purely because they're just not my thing. I was pleased that they only formed a very small part of the story, just tiny vignettes really, but I would have preferred a less fairytale ending to the one I got.
In conclusion, I very much liked Megan Hunter's writing and I enjoyed the way the story played out. I think it was just the right length, any longer and I might have lost interest, but as it was it kept my attention on the volatility of Lucy and the wariness of Jake. It's dark and disturbed, whilst focusing on daily routine and I liked that a lot.
---
---
MEGAN HUNTER's first novel, The End We Start From, was published in 2017 in the UK, US, and Canada, and has been translated into eight languages. It was shortlisted for Novel of the Year at the Books Are My Bag Awards, longlisted for the Aspen Words Prize, was a Barnes and Noble Discover Awards finalist and won the Foreword Reviews Editor's Choice Award. Her poetry, short fiction and non-fiction has appeared in The White Review, the TLS, Literary Hub, BOMB Magazine and elsewhere. Her second novel, The Harpy, will be published in 2020.