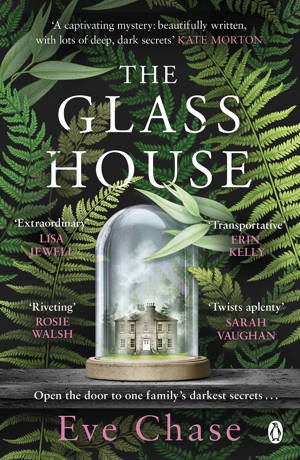 ShortBookandScribes #BookReview – The Glass House by Eve Chase
My review today is of The Glass House by Eve Chase. My thanks to Gaby Young from Michael Joseph for sending me a copy of the book for review purposes. You can get your own copy in paperback, ebook and audiobook now.
---

---
The truth can shatter everything . . .

When the Harrington family discovers an abandoned baby deep in the woods, they decide to keep her a secret and raise her as their own.

But within days a body is found in the grounds of their house and their perfect new family implodes.

Years later, Sylvie, seeking answers to nagging questions about her life, is drawn into the wild beautiful woods where nothing is quite what it seems.

Will she unearth the truth?

And dare she reveal it?
---

---
The Glass House is a gloriously circular novel, even though it doesn't feel like it for much of the story. There's so much that slides into place in a gentle but nonetheless startling and unexpected way.
This is the story of Rita, Hera and Sylvie, and the Forest of Dean, a character in its own right. Deep in the forest lies Foxcote Manor where the Harrington family spend one summer. Rita is nanny to Hera and her brother, Teddy, when a foundling baby is found in the woods and this discovery sets off a chain of events that may just echo down the years. Where Sylvie fits in would give too much away too soon but I was in awe of how the author pushed me down certain paths in the story with such subtlety.
Eve Chase's writing is beautiful. It's so lyrical, so poetic and elegant, pared back so there's never a stray word that doesn't belong, yet so descriptive and all-encompassing. I thought she captured the remoteness of the house in the woods, the hazy summer and the strange locals so well. There's also a strong sense of place, of the woods being both benign and ominous at the same time.
I feel like Chase is an author whose other books I will really enjoy. I love stories of family dynamics, secrets and lies, surprising links between characters, all of whom are cast perfectly in their roles. The Glass House has all of this in spades, zig-zagging between the early 1970s and the current day. It's not a fast-paced book, more one that is quietly addictive, and it drew me right in to the world of the Harringtons, just as Rita was. With gorgeous prose, interesting characters and the setting that came alive and jumped off the page, it's really a lovely read.
---
---
I'm an author who writes rich suspenseful novels about families – dysfunctional, passionate – and the sort of explosive secrets that can rip them apart. I write stories that I'd love to read. Mysteries. Page-turners. Worlds you can lose yourself in. Reading time is so precious: I try to make my books worthy of that sweet spot.
My office is a garden studio/shed. There are roses outside. I live in Oxford with my three children, husband, and a ridiculously hairy golden retriever, Harry.
Do say hello. Wave! Tweet me! I love hearing from readers. I'm on Twitter and Instagram and on Facebook.