ShortBookandScribes #BookReview – The Forgotten Secret by Kathleen McGurl @KathMcGurl @HQDigitalUK @rararesources #BlogTour
Welcome to my stop on the blog tour for The Forgotten Secret by Kathleen McGurl. I finally got round to reading one of this author's books (I have a few still on my TBR pile) which I'm glad about as they've always appealed. My review for this one is below. My thanks to Rachel Gilbey from Rachel's Random Resources for the place on the tour and to the publishers for providing a copy of the book via Netgalley for review purposes.
---
A country at war

It's the summer of 1919 and Ellen O'Brien has her whole life ahead of her. Young, in love and leaving home for her first job, the future seems full of shining possibility. But war is brewing and before long Ellen and everyone around her are swept up by it. As Ireland is torn apart by the turmoil, Ellen finds herself facing the ultimate test of love and loyalty.

And a long-buried secret

A hundred years later and Clare Farrell has inherited a dilapidated old farmhouse in County Meath. Seizing the chance to escape her unhappy marriage she strikes out on her own for the first time, hoping the old building might also provide clues to her family's shadowy history. As she sets out to put the place – and herself – back to rights, she stumbles across a long-forgotten hiding place, with a clue to a secret that has lain buried for decades.

For fans of Kate Morton and Gill Paul comes an unforgettable novel about two women fighting for independence.
Purchase Links
---

I've been meaning to read a Kathleen McGurl book for ages and there just hasn't been the right time, so I'm really pleased to have been able to read The Forgotten Secret. I do love a dual timeline story.
The book begins with a historical note and I was really pleased that it was there and not at the end as it gives a brief overview of Irish political history, the rebellions and the wars, right up to the Good Friday Agreement of 1998. I found this invaluable as I was largely ignorant of the details of the conflicts in Ireland.
The story itself starts with Clare, a 49 year old woman visiting a farmhouse in Ireland that she has just inherited from her uncle. She's there with her overbearing and controlling husband, somebody I took an instant dislike to. Thankfully, Clare decides to finally ditch him and move alone to the farmhouse and in doing so makes a new life for herself. In the house she discovers a couple of items relating to something that happened almost 100 years earlier.
Which brings me to the other part of the dual timeline, Ellen's story. In 1919 the First World War was just over but the Irish War of Independence was just beginning. Ellen gets a job working as a maid for a woman who is involved and her sweetheart is also fighting for an independent Ireland.
If I say any more then I am in danger of revealing too much. What I will say is that these two stories are intertwined in a way that I didn't guess, which I thought was clever on the author's part. I think I would have liked them to have started to join up a little earlier in the story but that's only a minor thing and I enjoyed both stories very much indeed.
Ellen's story in particular really interested me. As I said before, I knew little of the conflict in Ireland and I just didn't realise how much it had affected people for so long. I found it fascinating and also heartbreaking. The last 25% or so of the book really saddened me.
The Forgotten Secret is a lovely read and one that I thought was very well researched. I also found it really easy to read and I'd definitely read another of Kathleen McGurl's novels.
---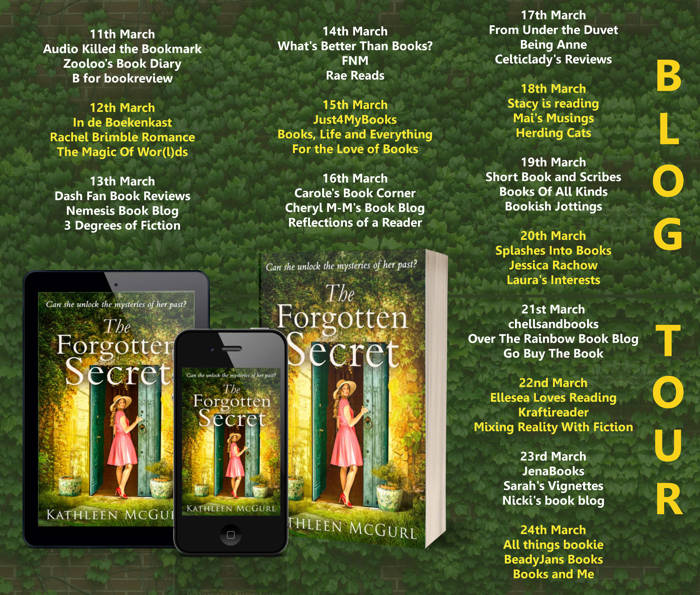 ---

Kathleen McGurl lives near the sea in Bournemouth, UK, with her husband and elderly tabby cat. She has two sons who are now grown-up and have left home. She began her writing career creating short stories, and sold dozens to women's magazines in the UK and Australia. Then she got side-tracked onto family history research – which led eventually to writing novels with genealogy themes. She has always been fascinated by the past, and the ways in which the past can influence the present, and enjoys exploring these links in her novels.