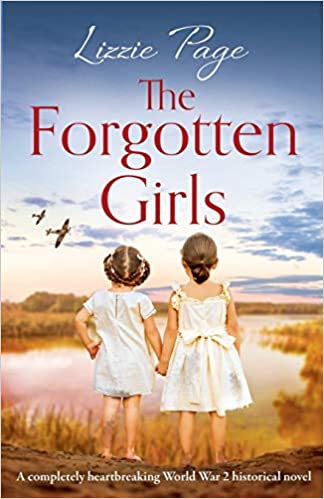 ShortBookandScribes #BookReview – The Forgotten Girls by Lizzie Page
I'm so pleased to be sharing my thoughts today about The Forgotten Girls by Lizzie Page, one of my favourite writers. I bought this book back in February and managed to start it the very week Lizzie's new book, The Wartime Nanny, was published. Hopefully I'll get that one read before she brings another one out!
---

---
Elaine was typing out letters from POWs and reminding herself that she would not cry. Poor Sam in Burma doubted whether he would ever see his children again. 'Tell them they mean the world to me.' Come on, Sam. Elaine wanted to reach out into the letter, hold his hand. Hang in there. If only he knew that she was half a world away, reading, listening…

London, 1943. German bombs rain down on London, but Elaine Parker knows her job transcribing letters from far-away prisoners of war is more important than her own safety. As she pores over each tearful letter from a soldier to his family far away, she's not only making sure the notes reach their destinations, but also looking for secret messages hidden between the lines to help the allies win the war.

At home, Elaine's life isn't so simple. What the other clerical girls don't know is that Elaine's family isn't respectable, and with her parents long dead, it's up to Elaine to make ends meet. But with one brother increasingly in trouble with the law, and the other suffering a violent breakdown, it doesn't leave Elaine much time to consider her own future hopes and dreams.

And then Elaine meets dark-haired and passionate Bobby – a wartime photographer on the dangerous front line – and her world shifts. The uncertainties of war feel more personal than ever. Will Elaine be forced to choose between her difficult family and her growing passion for Bobby? And how do you let yourself love someone with your whole heart when each moment could be their last?
---

---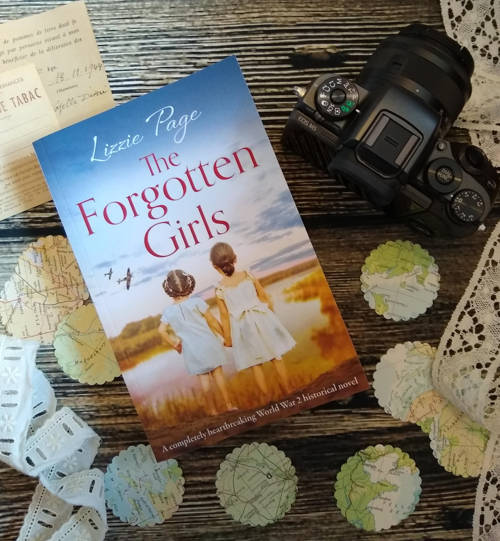 I'm a huge fan of Lizzie Page's books. I always enjoy her blend of fact and fiction, and her beautifully written stories.
The Forgotten Girls tells the story of Elaine Parker, a clerical girl in London in 1943. Her job is important and she enjoys it. Her home life is complicated. It's wartime. Life is hard. Then she meets Bobby, a war photographer, and he changes her life forever.
Bobby is actually Robert Capa, a photographer known for his images taken right at the epicentre of wars. I had heard of Robert Capa, but only really in passing. I now feel as I though I know him very well. Page really brings to life the man, his passion for photography, and his passion for life, the kind of person who people cannot fail to like.
He did really have a relationship with Elaine Parker during the Second World War and, whilst Page admits she used a lot of artistic licence with her character, it's also obvious she did a lot of research to tell what she could of her story. I was utterly engrossed in (fictional) Elaine's life and I found the attention to detail fascinating. Elaine lived above a WHSmith and I loved how she popped downstairs to borrow a romance novel, taking care not to damage it so she could give it back. The books filled a gap whilst she waited for Robert Capa to return from his latest dangerous assignment, whilst all the time fretting that she wasn't enough for a man so full of zest and charisma.
This is a story with love at its heart, my favourite kind of read. It has a modern day story running alongside the war story, a device to explore how the past trickles down into the present. I much preferred the 1940s story which is where all the interest was for me, but I appreciate why the author wanted to add those extra elements.
The Forgotten Girls was a really enjoyable read for me, and like all Lizzie Page's previous books, one that had me heading off to Google to find out more about Robert Capa and his photographic images. This is a book populated with larger than life characters, a setting that put me right into the heart of 1940s London, and a story that captivated me.
---
---
Lizzie loves reading and writing historical fiction and although she enjoys most eras, it is the First World War that has captivated her. Lizzie finds it fascinating primarily because of the massive changes women went through during those very hard years.
Lizzie grew up in a seaside town in Essex then studied politics at University. After graduating, she travelled around the world, aimlessly, mostly teaching Estuary English to unsuspecting students in Paris and Tokyo.
An allergic cat-lover, she lives with husband, three children and cockapoo, Lenny, named after her much-loved late father.