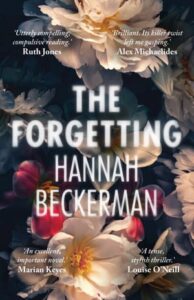 ShortBookandScribes #BookReview – The Forgetting by Hannah Beckerman
The Forgetting by Hannah Beckerman is published by Lake Union and is out now in paperback, ebook and audiobook. My thanks to the author for sending me a proof for review.
---

---
When Anna Bradshaw wakes up in a hospital bed in London, she remembers nothing, not even her loving husband, Stephen. The doctors say her amnesia is to be expected, but Anna feels cut adrift from her entire life.

In Bristol, Livvy Nicholson is newly married to Dominic and eager to get back to work after six months' maternity leave. But when Dominic's estranged mother appears, making a series of unnerving claims, Livvy is sucked into a version of herself she doesn't recognise.

A hundred miles apart, both women feel trapped and disorientated, and their stories are about to collide. Can they uncover the secret that connects them and reconstruct their fractured lives?
---

---
The Forgetting is the story of two women. Anna lives in London and is recovering from a car accident which has left her with severe amnesia. Reliant on her husband, Stephen, for everything, she feels disconcerted by her lack of memories. Then there's Livvy, living in Bristol with her husband, Dominic, and their baby son, Leo, and thinking about returning to work after maternity leave.
The story is told in alternating chapters from Anna's point of view in the first person and Livvy's in the third person. This device works so well as we can view Livvy's world as an onlooker with the clarity that she is too close to possess, whilst with Anna, her bewilderment and disorientation really come through in her own narrative.
What's really interesting is how the stories converge, and gradually it starts to become clear how the two threads are linked. The conclusion was one of my theories so not a total surprise, but still this is a book that is expertly plotted and ramps up the tension brilliantly. I found it an incredibly addictive and gripping read, fast-paced and easy to read, despite the subject matter, which without giving anything away is something that provoked a visceral reaction in me at times, and at one point I expressed my frustration out loud at something that happened with Livvy.
Hannah Beckerman writes beautifully and there are some wonderful descriptions in this book about how each woman feels. It felt wholly sympathetic and I felt it authentically portrayed what it must feel like for women in these situations. This domestic/psychological drama/suspense novel is taut and utterly compelling, and I raced through it, desperate to know how Anna's and Livvy's stories would end.
---
---
Hannah Beckerman is an author, journalist and broadcaster. She is a book critic and features writer for a range of publications including the Observer, the Guardian and the FT Weekend Magazine. A regular chair at festivals and events across the UK, she has interviewed a host of authors and celebrities, as well as appearing as a book pundit on BBC Radio 2 and Times Radio. Prior to becoming a full-time writer, Hannah worked in television as a producer and commissioning editor. The Forgetting is her fourth novel.