ShortBookandScribes #BookReview – The Extraordinary Hope of Dawn Brightside by Jessica Ryn #GiveALittleHope
I'm sharing my thoughts about this gorgeous book today. My thanks to HQ Stories for sending me a proof copy of the book for review purposes. You can get your own copy when it's published on Thursday (it should have been May but that pesky Covid got in the way).
---

---
She's not lost. She's just waiting to be found…

Dawn Elisabeth Brightside has been running from her past for twenty-two years and two months, precisely.

So when she is offered a bed in St Jude's Hostel for the Homeless, it means so much more than just a roof over her head.

But with St Jude's threatened with closure, Dawn worries that everything is about to crumble around her all over again.

Perhaps, with a little help from her new friends, she can find a way to save this light in the darkness?

And maybe, just maybe, Dawn will finally have a place to call home….

The utterly charming feel-good debut novel of 2020 to curl up with.
---
---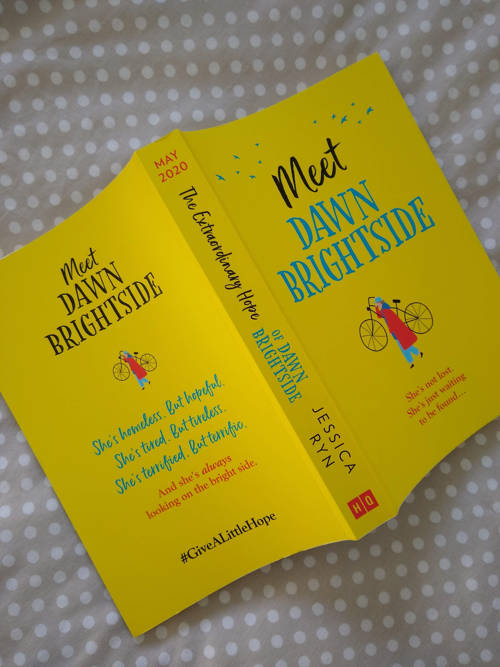 What a wonderful, wonderful read this is. The Extraordinary Hope of Dawn Brightside is everything I want in a book.
Dawn is 42 and homeless. We know she's been running away for over 20 years but we don't know why. At the start of the story she finds herself with a room at St Jude's Hostel which is managed by Grace with the help of Peter, an ex-resident, but the future of St Jude's is on the line and Dawn is determined not to let it close down as it's the first place she's been able to start to settle for a long time.
The story is told from the points of view of Dawn and Grace. Dawn is a lovely person and very kind, a bit of a fantasist but will help anyone who needs it. It was obvious there was more to her story and I knew it would break my heart when it all unfolded. Grace was probably my favourite character. So young to be managing the hostel at 25 but doing an amazing job whilst dealing with her own family demons and a burgeoning relationship, she's just a delight. I thought the two viewpoints worked perfectly, giving these two completely contrasting life experiences.
I think it was page 10 when tears first sprang to my eyes and there were a few more leaky eye bits throughout the book. I love a book that makes me cry as I know that it made me feel something for the characters. However, there were also giggles aplenty and some absolutely gorgeous heart-warming sections. This is what I call a feel-good story, really uplifting and moving, full of hope and possibilities.
This is a debut and it's hard to believe. Jessica Ryn is a beautiful and intuitive writer, hitting just the right tone to ensure this didn't turn into a maudlin sort of book. She's written perfect characters who complement each other brilliantly, and a completely charming story full of joy and compassion. It's a complete triumph.
---

---
Jessica Ryn is a former midwife and homeless resettlement worker. She has recently completed her MA in Creative Writing at CCCU, and her stories have been shortlisted for the Kimberly Chambers' Kickstarter Award, Wordsmag and the Val Wood Prize for Creative Writing. When she's not scribbling away, Jessica can be found meandering through the woods, reading stories that pull on the feel-strings and eating yoghurt-covered skittles. Jessica lives in Dover with her husband, two children and their high-spirited springer spaniel. The Extraordinary Hope of Dawn Brightside is her debut novel.