ShortBookandScribes #BookReview – The Evidence Against You by Gillian McAllister @GillianMAuthor @MichaelJBooks @PenguinUKBooks #BlogTour
Finally! At last I've read a Gillian McAllister book and I really liked it. My thanks to Olivia Thomas from Penguin for the place on the tour and for sending a review copy of the book.
---

It's the day Izzy's father will be released from jail.

She has every reason to feel conflicted – he's the man who gave her a childhood filled with happy memories.

But he has also just served seventeen years for the murder of her mother.

Now, Izzy's father sends her a letter. He wants to talk, to defend himself against each piece of evidence from his trial.

But should she give him the benefit of the doubt?

Or is her father guilty as charged, and luring her into a trap?
---
This is my first Gillian McAllister book, although I seem to have them all patiently waiting for me to get to them. The Evidence Against You is an excellent read, a family drama as much as a psychological thriller.
Izzy English is now in her mid-thirties. When she was 17 her father was convicted of murdering her mother and apart from one brief visit to see him in prison, she hasn't seen him since. But now he's been released and he's back in her life. Izzy has never really doubted the conviction but her father wants her now to believe that he is innocent. Either way, either her father did kill her mother or he was innocent and she lost him for so many years anyway. She doesn't really have anything to lose by listening to him or does she?
Poor Izzy. She's almost been in a state of limbo, her hopes and dreams tossed aside and, although she moved on with her life, she was also kind of stuck in the past. I liked Izzy. She's very tenacious and quietly brave, almost stoical about her situation.
This is such an interesting storyline. It really made me consider family ties and whether you should trust someone just because they are your family. It's also so cleverly weaved together. It's quite a slow burner of a story, but don't take that to mean boring because it's definitely not that. It's just that it's a steady build up as the information is drip fed to the reader. It's just as it would be if Izzy were a real person and she was trying to find out what happened in the past. I loved how it all unfolded and I honestly never saw the ending coming in a million years.
The Evidence Against You is a story about family, about loss, about betrayal. It's quite a sad story really but I really enjoyed this complex and compelling tale.
---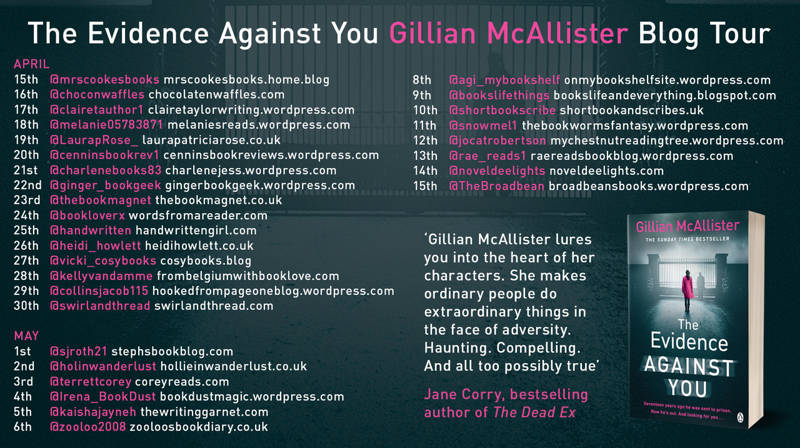 ---

Gillian McAllister is the Sunday Times Top 10 bestselling author of Everything But The Truth, Anything You Do Say, and No Further Questions. They are all standalone and can be read in any order. She is published in ten countries around the world. The Good Sister is her US debut, coming June 2019 from Penguin USA, and is the American title for No Further Questions. The Evidence Against You is her latest novel, published in April 2019 in the UK.