ShortBookandScribes #BookReview – The Ends of the Earth by Abbie Greaves
I'm sharing my thoughts about this gorgeous book today. My thanks to Najma Finlay from Century for sending me a copy for review. It will be published in hardcover, ebook and audio on 29th April.
---

---
Mary O'Connor has been keeping a vigil for her first love for the past seven years.

Every evening without fail, Mary arrives at Ealing Broadway station and sets herself up among the commuters. In her hands Mary holds a sign which bears the words: 'Come Home Jim.'

Call her mad, call her a nuisance, call her a drain on society – Mary isn't going anywhere.

That is, until an unexpected call turns her world on its head. In spite of all her efforts, Mary can no longer find the strength to hold herself together. She must finally face what happened all those years ago, and answer the question – where on earth is Jim?
---

---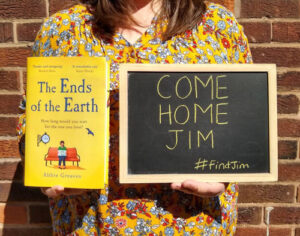 Oh this gorgeous book. I absolutely loved it.
As with the author's first book, The Silent Treatment, Abbie Greaves asks 'why?' in response to an inexplicable situation. Why is Mary O'Connor spending her evenings standing outside Ealing Broadway Station with a sign that says "Come Home Jim"? Where is Jim? Why did he leave? Jim was the love of Mary's life and he's been gone for seven years. It feels like an impossibly unbearable situation. Things come to a head as the story begins, and as it progresses, Alice, a new friend of Mary's, and Kit, who works at the same helpline as Mary, begin to try to work out the mystery of where Jim disappeared to.
The Ends of the Earth is an absolutely incredible read. I was drawn in right from the beginning, both into the 'now' story of Mary who is unable to move on, and the 'then' story which tells of Mary and Jim's meeting and their subsequent life together. Their love is an intense one that moves quickly and there's nothing I love more than a good love story. I thought their relationship was beautifully written and perfectly portrayed, giving me a real sense of true love. Of course, we know that this might be a love affair that doesn't have a happy ending but I needed to know more and I couldn't stop turning the pages to see how it would conclude.
Alice and Kit provide a delightful side story and there are scenes between them that really made me giggle. I enjoyed the sub-plot that came with Alice and which tied in beautifully with the main story. The author has provided the perfect balance of humour and heart-rending sadness and has produced a thoughtful and emotive read. The underlying message is one of mental health and how we never know what's going on behind closed doors, or indeed what people are dealing with and holding inside themselves.
A book that can make me both laugh and cry is an absolute winner in my book and The Ends of the Earth did just that. It offers all that I want in a book and it will be one of my books of the year.
---
---
Abbie Greaves studied at Cambridge University before working in a literary agency for a number of years. She was inspired to write her first novel, The Silent Treatment, after reading a newspaper article about a boy in Japan who had never seen his parents speak to one another before.
Abbie lives in Brighton with her boyfriend.