ShortBookandScribes #BookReview – The Education of Ivy Edwards by Hannah Tovey
I'm delighted to be reviewing The Education of Ivy Edwards by Hannah Tovey today. Such a great read! My thanks to Beth Wright from Piatkus/Little Brown for sending me a copy for review. You can get a copy when it's published in paperback tomorrow.
---

---
Adult life is hard. Send help.

Ivy Edwards is thirty-one years old, funny, shameless, and a bit of a romantic.

She's also currently trying not to cry in the office toilet.

Partly because she's just run out of money for fags. A bit because her mum continues to annoy her. Definitely not because she's just been dumped by her fiancé.

With her London life in shambles and her family miles away in the Welsh valleys, Ivy doesn't actually feel like she belongs anywhere.

At least, she has her friends – and a bottle of vodka.

Embarking on a journey of singlehood, Ivy is about to discover that sometimes, having your life fall apart can be surprisingly fun.

Sometimes, heartbreak can be the best education . . .
---

---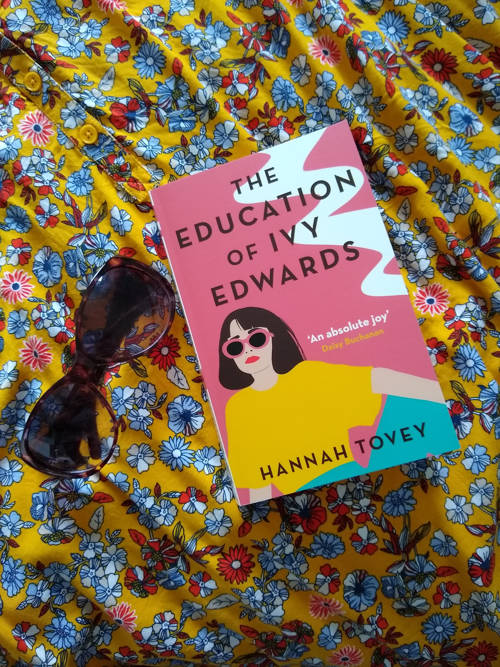 This has probably already been said but The Education of Ivy Edwards reminded me very much of a cross between the rude candour of Fleabag and the chaos of Bridget Jones. Win/win for me!
Ivy lives in London but is from the Welsh valleys and I loved both settings and the difference between them. Her family is a little bit bonkers but they all love each other. I laughed a lot at the way Ivy spoke to them on her frequent trips back home. As the book begins, Ivy has just been dumped by her fiancé, Jamie, something that comes completely out of the blue and absolutely knocks her for six. Add to this, a job where the manager is watching her every move whilst nibbling on a tiny avocado and a couple of cherry tomatoes, and Ivy finds herself turning to a life of debauchery, drink and drugs.
I found this book so funny, it had me sniggering out loud a lot. I also loved the touches of filth as Ivy tries to find her way in life again. She's hilariously brazen at times. But this is not just a light-hearted read as there are also some more serious issues going on regarding her family. Ivy struggles to cope but she has people looking out for her and I loved her network of family and friends trying to keep her on an even keel.
I raced through this book and found it so very readable. It's engaging, witty, thoughtful and crazy. It's a fabulously riotous debut and a great all-rounder by Hannah Tovey. I hope to read more in a similar vein from her in the future.
---
---
Hannah Tovey is from South Wales, but grew up in Hong Kong. She graduated from Faber Academy in 2018, after completing the Writing a Novel course under tutor Richard Skinner, where she finished The Education of Ivy Edwards.
Hannah lives in Bow, East London.