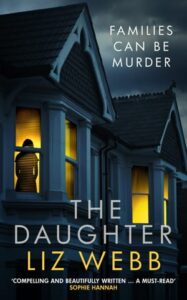 ShortBookandScribes #BookReview – The Daughter by Liz Webb #BlogTour
It's my stop on the blog tour for The Daughter by Liz Webb. It was published by Allison & Busby yesterday in hardcover, eBook and audiobook. My thanks to the publishers and Helen Richardson PR for the proof copy and the place on the tour.
---

---
I lean in and whisper the question I have never let myself utter in twenty-three years.

"Dad, did you murder Mum?"

Hannah Davidson has a dementia-stricken father, an estranged TV star brother, and a mother whose death opened up hidden fault lines beneath the surface of their ordinary family life.

Now the same age that Jen Davidson was when she was killed, Hannah realises she bears an uncanny resemblance to her glamorous mother, and when her father begins to confuse them she is seriously unnerved.

Determined to uncover exactly what happened to her mum, Hannah begins to exploit her arresting likeness, but soon the boundaries between Hannah and her mother become fatally blurred.
---

---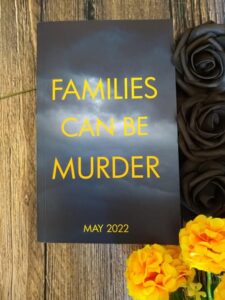 Families can be murder. Well, Hannah Davidson's family certainly are. Having moved back to live with her elderly father who is suffering with dementia, she wants to find out what really happened to her mother who died when Hannah was a teenager.
The story is peppered with sharp humour. Hannah is on something of a collision course, lurching from one alcohol-fuelled episode to another as she reconnects with her brother, deals with her father thinking she's her mother, and just generally tries to get to the bottom of her past. Matters are compounded because she's almost the age her mother was when she died and she's starting to look more and more like her.
The Daughter has a darkness to it, tempered by that humour I mentioned. A slow-burn first half leads to a second half which is faster-paced and has some unexpected and canny twists and turns.
The characters were, for the most part, pretty difficult to like but I think Hannah's own narrative made her story easier to engage with than if the story had been told in the third person. She comes across as rather unreliable and a bit erratic and this makes her very interesting.
This domestic noir feels a bit different to all the others and makes for a very good debut novel from Liz Webb.
---

---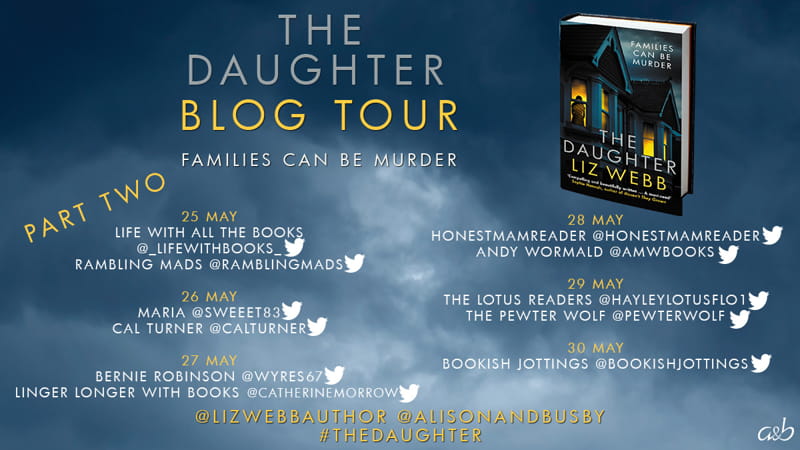 ---
---
LIZ WEBB originally trained as a classical ballet dancer but had to give up following a back injury. She then worked as a secretary at the British Library whilst going to night school at the City Lit to get into Oxford University age 23. After graduating, she worked as a stationery shop manager, an art model, a cocktail waitress, standup comic, voice-over artist, script-editor, and radio drama producer before becoming a novelist.
Liz Webb was a stand-up comic for ten years performing at clubs across the UK and at festivals in Edinburgh, Newcastle, Leicester and Cardiff. At the same time, she worked as a voice-over artist voicing many TV ad campaigns including The Times, Kellogg's Just Right cereal and Organics hair products.
She also worked for fourteen years as a prolific radio drama producer for the BBC and independent radio production companies.
Liz lives in North London with her husband, son and serial killer cat Freddie. Follow
Liz on Twitter @lizwebbauthor.