ShortBookandScribes #BookReview – The Couple by Sarah Mitchell @SarahM_writer @Bookouture #BlogTour
I'm so pleased to be sharing my review of The Couple by Sarah Mitchell today as part of the blog tour. My thanks to Noelle Holten from Bookouture for the place on the tour and the review copy via Netgalley.
Whatever you think you know… you're wrong.
Following a whirlwind four-month romance, lawyer Claire and hotel entrepreneur Angus are engaged to be married. Happy and successful, and ready to start their new life together, Claire and Angus find what they believe to be the perfect home.
But when Claire meets Mark, the man selling them the house, he looks eerily familiar. He looks exactly like the man she loved five years ago, the man she couldn't bear to lose.
As Claire finds herself irresistibly drawn to Mark and crosses lines she never thought she'd cross, Angus' behaviour becomes increasingly suspicious. Soon Claire doesn't know whether she can trust Mark, Angus… or even herself.
The Couple is a psychological thriller with a stunning twist, perfect for fans of The Girl Before, The Wife Between Us, and The Woman in the Window.
BUY LINKS
---

I enjoyed Sarah Mitchell's first book, The Lost Letters, and have to say that The Couple is nothing like it! Where the first one was a dual timeline wartime story, the latter is a psychological thriller. What this proves is that Mitchell can write in either genre.
I am slightly puzzled by the title and am not entirely sure who the couple in question are. Is it Claire and her fiancé, Angus? Or Claire and Mark, the man whose house they are buying? Or Claire and Daniel, the man who Mark reminds her of, a man from her past? Claire is an unreliable narrator. She works for the government in the Immigration Department and as the book begins she has just got engaged to Angus. It's fair to say that from pretty early on it seems as though the relationship might not last the course. Angus isn't Daniel (or Mark for that matter) and they don't seem to be that well suited.
I enjoyed the details of Claire's work, the cases she was working on were so interesting. And her relationship with her colleagues, Angus and her family were really intriguing. The plot is quite intense and quite complex and at times it's more than a little unlikely, but it was enough to keep me turning the pages.
There's an amazing twist that I didn't see coming and which left me reeling. It certainly had me questioning everything I had read before. And I loved the very end which I thought was extremely clever and revealing. With these two sections Mitchell really excelled herself.
The Couple is a pacy and exciting thriller, a bit different to others, and a good read overall.
---

---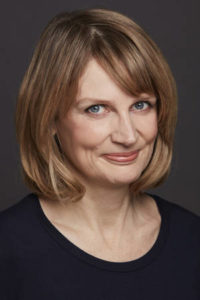 After graduating from Cambridge University, Sarah Mitchell practised as a barrister in London for 20 years, working in the field of human rights and European Law. She was tempted to write fiction for a long while and finally signed up for an introductory creative writing course with the Open University. Two years later she took a sabbatical from the bar to do an MA in Creative Writing at the UEA and has never looked back. THE LOST LETTERS is her first novel, inspired by a walk on the beach at Wells-next-the-Sea to calm her nerves before starting the MA, and the decision her grandparents almost made to evacuate her mother to Canada at the start of the Second World War. Sarah now lives back in Norfolk – where she grew up – with her husband and three almost-grown-up children, and combines writing with some legal work.