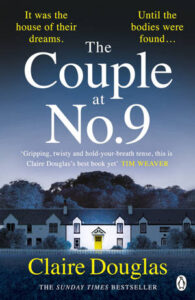 ShortBookandScribes #BookReview – The Couple at No. 9 by Claire Douglas #BlogTour
It's my stop today on the blog tour for The Couple at No. 9 by Claire Douglas. My thanks to Ella Watkins at Michael Joseph for the place on the tour and the proof copy of the book for review purposes.
---

---
BODIES FOUND UNDER PATIO

When pregnant Saffron Cutler moves into 9 Skelton Place with boyfriend Tom and sets about renovations, the last thing she expects is builders uncovering a body. Two bodies, in fact.

POLICE INVESTIGATE

Forensics indicate the bodies have been buried at least thirty years, which leads the police to question the cottage's former owner – Saffy's grandmother, Rose.

OWNER QUESTIONED

Rose's Alzheimer's means her memory is increasingly confused. She can't help the police – but it is clear she remembers something.

A KILLER AT LARGE?

As Rose's fragmented memories resurface, and the police dig ever deeper, Saffy fears she and the cottage are being watched . . .

What happened thirty years ago?
What part did her grandmother play?
And is Saffy now in danger? . . .
---

---
I've been looking forward to reading The Couple at No. 9 for a while now. I've read books by Claire Douglas before and so I knew I was in for a good read. I wasn't disappointed by this fast-paced and twisty tale.
Saffron and Tom move into 9 Skelton Place, a cottage owned by Saffron's grandmother, Rose, in a small and quite rural village called Beggar's Nook. The reader is thrust into the action from page 1 as builders working in the garden uncover the remains of two bodies. Saffron is convinced her grandmother must know nothing about them but Rose is now in a care home and has Alzheimer's and so getting answers from her about the past is going to prove difficult.
What makes this family drama into a psychological thriller is the feeling that somebody wants to know more about what Saffron and her mother, Lorna, are now starting to uncover. It makes for quite a tense read. It's a dual timeline story with Rose's story in the past filling in the blanks that Saffron and Lorna are having to work hard to fill in the present day storyline. There's a big shock moment, something I didn't see coming at all, and lots of other unexpected developments along the way.
I particularly liked the village setting which played a large part in both timelines and I also enjoyed the amateur investigations of Saffron, Lorna and another character called Theo. I thought the characterisations were excellent, with some lovely people, some baddies and some unknowns! The story is well-plotted and it kept me interested and I really liked the fact that it was a thriller with an emotional, family-orientated aspect as this made it easy for me to really engage with what was going on.
I enjoyed The Couple at No. 9 very much indeed. It's the very definition of a page-turner.
---

---
---
---
Claire Douglas has worked as a journalist for fifteen years, writing features for women's magazines and national newspapers, but she's dreamed of being a novelist since the age of seven. She finally got her wish after winning the Marie Claire Debut Novel Award, with her first novel, The Sisters, which was followed by Local Girl Missing, Last Seen Alive, Do Not Disturb, Then She Vanishes and Just Like the Other Girls. She lives in Bath with her husband and two children.