ShortBookandScribes #BookReview – The Confession Room by Lia Middleton
The Confession Room by Lia Middleton will be published by Penguin Michael Joseph on Thursday 31st August in paperback, audiobook and ebook. My thanks to the author and publishers for the proof copy.
---

---
WELCOME TO THE CONFESSION ROOM.
An online forum for admitting your sins.

Some people confess to affairs, others to stealing. Some admit deep, dark wishes. And former police officer Emilia Haines, reading strangers' secrets is the perfect distraction from the past.

But one day, Emilia stumbles on the darkest confession yet:

MURDER.

At first, it seems like a hoax. But when a body is found, then another victim is named, Emilia can't look away.

How are the victims linked? Who is confessing to murder to publicly?

And how do you catch a serial killer who is hiding in plain sight?
---

---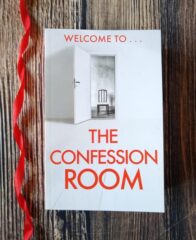 The Confession Room is another fast-paced and exciting thriller from Lia Middleton. Emilia Haines gave up her job as a police officer when tragedy hit her family but the detective instinct hasn't left her. She spends a lot of time online and on one forum in particular, The Confession Room, where people anonymously share their darkest confessions. Sometimes it's something they have done and other times it's something they would like to do. A safe space to vent and share until somebody confesses to murder. Very soon there's more than one and we have a serial killer on the loose.
I thought this was a genius idea for a book. I wasn't sure how the story would work but Middleton has plotted it extremely well and manages to keep up the tension all the way through. There's a point where I did a sharp intake of breath and the pace changed all over again but really it never lets up. It's a multi-layered story with more to everything than meets the eye.
Emilia is a brilliantly-drawn character, with everything and nothing to lose and she veers between putting herself in danger and knowing that she needs to stay safe for her family, but her background as a detective helps her as well as she's looking for clues that others wouldn't search for. All in all, The Confession Room is a gripping and thrilling read with a shocking premise. It's tense, dark, unique and clever and makes you think about what you're sharing online, even if it's just an unfulfilled desire. A fantastic and exhilarating read.
---
---
Lia Middleton is a barrister who specialises in crime and prison law, and lives with her husband and two young children in Buckinghamshire. You can find her on Twitter @liamiddlet0n and on Instagram @liamiddletonauthor. She is the author of When They Find Her and Your Word or Mine.