ShortBookandScribes #BookReview – The Clockmaker's Daughter by Kate Morton @panmacmillan
A Kate Morton book is a wondrous event for me. I just love her work. I had intended to read The Clockmaker's Daughter on my holiday back in August but a book with a short review deadline got in the way (I can't complain as it was a book I ended up loving – The Binding) and a 600 page book isn't one you can just slot in any old where. Thankfully, the Christmas break has afforded me the time I needed to read it and thank goodness. My thanks to Rosie Wilson from Pan Macmillan for the review copy and my apologies for taking so long to read it.
---
From the bestselling author of The House at Riverton and The Secret Keeper, Kate Morton brings us her dazzling sixth novel, The Clockmaker's Daughter.

My real name, no one remembers.
The truth about that summer, no one else knows.

In the summer of 1862, a group of young artists led by the passionate and talented Edward Radcliffe descends upon Birchwood Manor in rural Berkshire. Their plan: to spend a secluded summer month in a haze of inspiration and creativity. But by the time their stay is over, one woman has been shot dead while another has disappeared; a priceless heirloom is missing; and Edward Radcliffe's life is in ruins.

Over one hundred and fifty years later, Elodie Winslow, a young archivist in London, uncovers a leather satchel containing two seemingly unrelated items: a sepia photograph of an arresting-looking woman in Victorian clothing, and an artist's sketchbook containing a drawing of a twin-gabled house on the bend of a river.

Why does Birchwood Manor feel so familiar to Elodie? And who is the beautiful woman in the photograph? Will she ever give up her secrets?

Told by multiple voices across time, The Clockmaker's Daughter is a story of murder, mystery and thievery, of art, love and loss. And flowing through its pages like a river, is the voice of a woman who stands outside time, whose name has been forgotten by history, but who has watched it all unfold: Birdie Bell, the clockmaker's daughter.
---

There's something so magical about a new Kate Morton book. I love her writing style and I have to say that when I was reading The Clockmaker's Daughter, I found myself marvelling at the way she manages to write with such authenticity where other writers might struggle with bringing such a story to life through the page. She's absolutely at the top of her game.
Reading a Kate Morton is a time undertaking. They're always big, this one is 600 pages, but the undertaking is one well worth making as it's like starting out on a whole new adventure. Having said that, I did find this book took a little getting into, not in a 'I'm bored with this' kind of way but more in terms of having to take it slowly, absorb it all and wait whilst this incredibly talented writer started to bring all the threads together.
And it was worth waiting for. The story is wonderfully intricate and involving. It's told by multiple voices over the course of 160 or so years which seem at first to have little connection to each other, but then secrets are revealed, mysteries start to be resolved and all of a sudden there is a dawning realisation of how everything and everybody is interlinked. The main characters are Elodie Winslow, the archivist who finds something in the course of her work that not only piques her interest but actually seems to have an invisible thread drawing her to Birchwood Manor, and an at first unknown narrator whose story is the glue that binds herself and Elodie with the other voices that we hear. I loved both of them, even though they're quite different people, but I also very much enjoyed the sections looking at the other characters' and their time at Birchwood Manor.
As is customary with Morton's work, a house is at the very heart of the action and this time it is Birchwood Manor which takes centre stage. It has an ethereal presence in the narrative and if you're thinking that a house can't have a presence then you're wrong as this one most definitely does.
The Clockmaker's Daughter is just utterly beautiful and enchanting, engrossing and moving. It covers a large period in time in fine fashion, taking us from a group of artists, through the two world wars, through the various incarnations of the house, right up to the present day, delighting the reader with an array of fascinating characters with their very own stories to tell. It's a book to savour and enjoy and to thoroughly absorb yourself in. That's what I did and I had myself an absolutely amazing experience.
---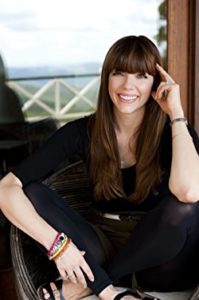 KATE MORTON is an award-winning, New York Times bestselling author. Her novels – The House at Riverton (The Shifting Fog), The Forgotten Garden, The Distant Hours, The Secret Keeper and The Lake House – are published in over 40 countries, in 34 languages, and have all been number one bestsellers around the world. Kate's new book, The Clockmaker's Daughter, was published in September/October 2018.
Kate Morton was born in South Australia, grew up in the mountains of southeast Queensland and now lives with her family in London and Australia. She has degrees in dramatic art and English literature, and harboured dreams of joining the Royal Shakespeare Company until she realised that it was words she loved more than performing. Kate still feels a pang of longing each time she goes to the theatre and the house lights dim.
"I fell deeply in love with books as a child and believe that reading is freedom; that to read is to live a thousand lives in one; that fiction is a magical conversation between two people – you and me – in which our minds meet across time and space. I love books that conjure a world around me, bringing their characters and settings to life, so that the real world disappears and all that matters, from beginning to end, is turning one more page."
Author photo and bio taken from Amazon