ShortBookandScribes #BookReview – The Christie Affair by Nina de Gramont
2022 is throwing some fabulous new publications my way. Today I'm sharing my thoughts about The Christie Affair by Nina de Gramont which will be published by Mantle on 20th January. My thanks to Rosie Friis for sending me such a gorgeous proof for review purposes.
---

---

In 1926, Agatha Christie disappeared for 11 days. Only I know the truth of her disappearance.
I'm no Hercule Poirot.
I'm her husband's mistress.

Agatha Christie's world is one of glamorous society parties, country house weekends, and growing literary fame.

Nan O'Dea's world is something very different. Her attempts to escape a tough London upbringing during the Great War led to a life in Ireland marred by a hidden tragedy.

After fighting her way back to England, she's set her sights on Agatha. Because Agatha Christie has something Nan wants. And it's not just her husband.

Despite their differences, the two women will become the most unlikely of allies. And during the mysterious eleven days that Agatha goes missing, they will unravel a dark secret that only Nan holds the key to . . .

The Christie Affair is a stunning novel which reimagines the unexplained eleven-day disappearance of Agatha Christie in 1926 that captivated the world.
---

---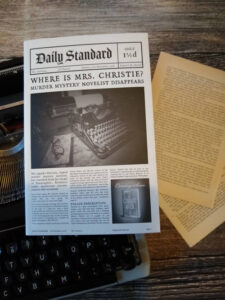 In 1926 Agatha Christie disappeared for eleven days. She turned up in a spa hotel in Harrogate, a long way from her home in Berkshire. Christie always maintained she couldn't remember anything about her unexplained disappearance but this novel offers a fantastic fictional version of the events that occurred over those eleven days.
One of the things that may have in part led to the disappearance was the fact that Christie's husband, Archie, was having an affair with a woman named Nancy Neele. In The Christie Affair, Nancy is renamed Nan O'Dea and the whole story is seen from her viewpoint, both at the time of the disappearance and looking back over what had happened in her own life up to that point which is of great relevance to the story.
This was a most unexpected book for me. I suppose I was expecting something that revolved solely around Christie's missing eleven days but that is only half the story and Nan's past puts a really fascinating slant on why it happened. I really don't want to say too much as I think a reader must let it unfold as they read but there are lots of surprises and the author's expert plotting offers an explanation that I could never have guessed at.
Although this is essentially a mystery tale, it's also a sad and moving consideration of the effects of the First World War and some of the things that happen to Nan were sadly common but completely tragic. Whilst this book has some elements of the truth to it, it's very much fictionalised and the author has imagined quite a past for Nan. There's a darkness to it, and a compelling narrative along with a romantic element that added a frisson of forbidden pleasure, made for a gripping reading experience.. I found I wanted to read in larger chunks to fully immerse myself in all that was happening and when I did so I was utterly engrossed. This is such an innovative and spellbinding book which hooked me from beginning to end.
---
---
Nina de Gramont lives with her husband and daughter in coastal North Carolina, where she teaches Creative Writing at the University of North Carolina Wilmington. Her interest in writing about Agatha Christie began in 2015 when she first learned about the famous author's eleven-day disappearance. Christie's refusal to ever speak about this episode particularly intrigued Nina, who loves the fact that someone who unravelled mysteries for a living managed to keep her own intact. The Christie Affair is her fourth novel.