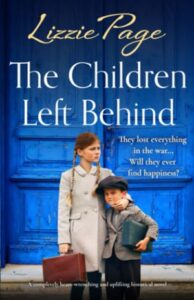 ShortBookandScribes #BookReview – The Children Left Behind by Lizzie Page
The Children Left Behind by Lizzie Page is published by Bookouture and available now in paperback, ebook and audiobook. The book is my own – Lizzie is one of my favourite authors and I've loved all of her books (you'll find reviews for them by using the search function). There are a couple missing from the photo below as I read them in ebook. It seems a bit frivolous to buy books I've already read just to put them on my shelf but I would really like those missing two to complete my physical collection. The copy of Daughters of War is the US edition and contains a quote from my review of When I Was Yours!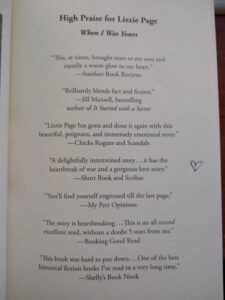 ---

---
England, 1951. In the aftermath of World War Two, Clara's orphanage is all these children have left. Can she keep them safe and help them to heal? A heart-warming and emotional story of love and loss.

Clara Newton has dedicated her life to taking care of orphans who have nobody in the world but her. From affectionate Gladys, who desperately misses her older brothers, to traumatised Florrie who longs for her father and refuses to eat, Clara loves each of the children like they are her own.

But even though she has opened her heart to so many little ones, when brown-eyed war hero Ivor asks her to marry him, Clara is afraid to take a chance on love. Would married life prevent her from dedicating herself completely to her orphans?

Clara is soon distracted from the troubles of her heart when her beloved orphanage comes under attack. Someone throws stones through the window, and a threatening message is chalked near the door. Why would anyone want to frighten innocent children? And as the attacks get worse, can Clara keep the orphans safe?

Desperate to protect the little ones in her care, Clara takes the children on a day out. Away from the orphanage, Clara hopes that she and the children will be able to put their worries behind them. But when a terrible accident happens, will they all make it out alive? And will it be too late for Clara to tell Ivor how she really feels?

An utterly tear-jerking, heart-warming and unforgettable historical novel, set in the aftermath of World War Two. Perfect for fans of Before We Were Yours, Diney Costeloe and The Orphan Sisters.
---

---
The Children Left Behind is book four in Lizzie Page's Shilling Grange series and we return to the children's home in Suffolk in 1951. Clara Newton, the housemother, is looking after her little group of orphans: Peg who still doesn't speak, Gladys who is missing her brothers and doesn't know where they are, and Florrie who barely eats. Clara loves her work and knows that if she marries Ivor, her man from across the road, she'll have to give it up, and her heart is torn in two.
There never seems to be a dull moment at the home as somebody launches a series of attacks. One or two might just seem like the work of kids but as they mount up it becomes quite scary. New residents come along and happily we hear or see what is going on with some of the ones who have left, such as Peter, Maureen and Clifford. Clara also has a couple of blasts from her past to contend with.
I love this series and I loved this book. I think Clara is a brilliant creation who sometimes seems a bit weary and put-upon (albeit with some razor-sharp inner thoughts) but then, when it matters most, she stands up for herself and those she loves, which includes the children who occupy such a huge place in her heart. In this story she's dealing yet again with men in power and the haphazard, lack of care way the council record the children in their homes.
A little slice of history, with some major events of the early 50s weaved into the story, I found The Children Left Behind to be a gorgeous story of family in all its guises. The characters are just that, real characters, quirky and perfectly drawn. I'm looking forward to book five now and to seeing how the author winds up the series, particularly the thorny issue of Clara and Ivor.
---
---
Lizzie Page lives in a seaside town in Essex, England where she grew up. After studying politics at University, she worked as an English teacher, first in Paris and then in Tokyo, for five years. Back in England, she tried and failed various jobs, before enjoying studying a masters in creative writing at Goldsmiths College. Lizzie loves reading historical and modern fiction, watching films, and travelling. Her husband Steve, three lovely children, and Lenny the cockapoo all conspire to stop her writing!