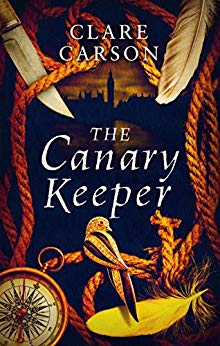 ShortBookandScribes #BookReview – The Canary Keeper by Clare Carson
I'm delighted to be reviewing The Canary Keeper by Clare Carson today. My thanks to Head of Zeus for sending me a proof copy for review purposes.
---
They will see me hang for this.

London, 1855. In the grey mist of the early morning a body is dumped on the shore of the Thames by a boatman in a metal canoe. The city is soon alive with talk of the foreign killer and his striking accomplice: a young woman dressed in widow's weeds.

Branna 'Birdie' Quinn's sleeplessness led her to the river that morning, but was it only thoughts of her drowned husband that kept her awake? She has always been wilful, haughty, different… but is she a murderess?

To clear her name, Birdie must retrace the dead man's footsteps to Orkney and the far north. A dangerous journey for a woman alone, but one she must make in order to save her neck from the hangman's noose.

This gripping, richly layered historical thriller is perfect for fans of The Familiars, The House Between Tides and The Confessions of Franny Langton.
---

The big draw of The Canary Keeper for me was the dual setting of Victorian London and Orkney. In particular, it was the Orkney connection that really got my attention as I'm a big fan of island novels, particularly Scottish islands.
Birdie Quinn is our heroine. She has suffered in her past but she's a good, steady person, working as a bookkeeper. One evening she is walking by the river when she spots a corpse, which is not that unusual in Victorian London, but this is a man who had earlier accosted her in a drunken manner in the street. Unfortunately for Birdie, she is spotted and named as an accomplice in his murder.
Birdie is a widow. She has had a gentleman friend fairly recently, a policeman called Solomon, but they parted ways. However, Solomon is now called upon to help her to clear her name. As the dead man had links to Orkney, Birdie decides to travel there by boat to find out what she can about him and what led to his murder.
This is a fascinating story. Birdie is a likeable character, measured and thoughtful in her ways. I found her time on Orkney to be so interesting as she becomes close to certain members of the community there and discovers so much about why the man ended up dead. I don't know what Orkney was like in Victorian times but I felt like the setting was very authentic and very atmospheric. There are dark forces at work and some very unpleasant goings on, linked to the Esquimaux, Arctic expeditions and more. This book has got so much going on, so many links and threads running through it.
If I'm honest, I sometimes felt my concentration waning a little and having to pull it back to take in all the information I was being given, and all the strands in the story. It is absolutely rich with detail: the dirty streets, the stench of the river, the sounds of the ships. It's very much a novel about voyages on the water actually, from the one that Birdie takes from London to Orkney, to the ill-fated Franklin expedition. Also, Birdie works for shipping companies so there's a solid link to seas and rivers running all the way through.
I liked how the island people were portrayed, particularly Margaret who is a strong woman looking after herself, and Morag, called a witch by some, and clearly someone with great spiritual powers. And in London, I enjoyed Birdie's relationship with Solomon which wasn't what it once was but there was still a spark there between them as they get into some rather hairy situations in their quest for the truth.
The Canary Keeper is a relatively large book (398 pages) which required some investment on my part in terms of attention but which I found very satisfying. The story is so intriguing, so full of depth and the writing is beautifully descriptive. If you're a historical fiction/mystery fan then this is the perfect blend for you.
---

Clare Carson grew up in the suburbs of London. She studied anthropology at university, and lived for a while in villages in Tanzania and Zimbabwe doing ethnographic research. She has worked as an adviser on human rights and international development for nearly twenty years and has written three novels, all published by Head of Zeus. She lives by the sea in Sussex with her partner, two daughters and a couple of very large cats.
Twitter