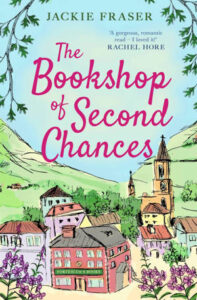 ShortBookandScribes #BookReview – The Bookshop of Second Chances by Jackie Fraser
Today I'm sharing my thoughts about The Bookshop of Second Chances by Jackie Fraser. Spoiler: I thought it was fantastic. My thanks to Sara-Jade Virtue at Books and the City/Simon and Schuster who very kindly sent me a copy of the book as part of an amazing giveaway prize.
---

---
Thea's having a bad month. Not only has she been made redundant, she's also discovered her husband of nearly twenty years is sleeping with one of her friends. And he's not sorry – he's leaving.

Bewildered and lost, Thea doesn't know what to do. But, when she learns the great-uncle she barely knew has died and left her his huge collection of second-hand books and a house in the Scottish Lowlands, she seems to have been offered a second chance.

Running away to a little town where no one knows her seems like exactly what Thea needs. But when she meets the aristocratic Maltravers brothers – grumpy bookshop owner Edward and his estranged brother Charles, Lord Hollinshaw – her new life quickly becomes just as complicated as the life she was running from…

An enchanting story of Scottish lords, second-hand books, new beginnings and second chances perfect for fans of Cressida McLaughlin, Veronica Henry, Rachael Lucas and Jenny Colgan.
---

---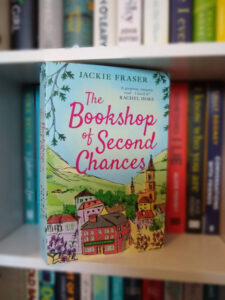 Thea has just been dealt a couple of major blows. Her husband has been having an affair with one of her friends and she's been made redundant. The news that she has been left a lodge in Scotland on the edge of a large estate seems to be just the escape she needs. It's time for Thea's second chance. She gets a job working for the very cantankerous Edward at his secondhand bookshop in Baldochrie where she might just start to heal.
When I picked up this book I think I was imagining something light and fluffy but it's got so much more depth than that, I think in part because the main characters are all 40+ and so have had many life experiences already. It felt real and relatable.
Thea is a fantastic heroine. She's feisty, funny and sweary, and I enjoyed her reinvention and her journey into her new life so much. Edward is just wonderful. For all his irascibility, he's also rather charming and good-looking and I defy any reader not to fall for him just a little bit. The chemistry between the two of them was hot! There's a bit where Thea thinks she might just melt away and I felt exactly the same reading it.
Scottish settings are always a favourite of mine and this one is a delight. It's a small town where Thea quickly becomes a part of the community and starts to make friends and think about putting down roots. You know a book is a winner if you start to imagine yourself in the place where it's set. I could just see myself pottering around Edward's bookshop and having lunch at The Old Mill.
The Bookshop of Second Chances is a complete joy from start to finish. I spent most of my time reading it with a smile on my face. It's full of warmth and romance that made my heart sing and I was thoroughly enchanted by this tale of new beginnings, love, friendship and books. Perfection!
---
---
Jackie Fraser is a freelance editor and writer. She's worked for AA Publishing, Watkins, the Good Food Guide, and various self-published writers of fiction, travel and food guides, recipe books and self-help books since 2012. Prior to that, she worked as an editor of food and accommodation guides for the AA, including the B&B Guide, Restaurant Guide, and Pub Guide for nearly twenty years, eventually running the Lifestyle Guides department.  She's interested in all kind of things, particularly history, (and prehistory) art, food, popular culture and music. She reads a lot, (no, really) in multiple genres, and is fascinated by the Bronze Age. She likes vintage clothes, antique fairs, and photography. She used to be a bit of a goth. She likes cats.