ShortBookandScribes #BookReview – The Book of Beginnings by Sally Page
The Book of Beginnings by Sally Page will be published by Harper Collins on 28th September in paperback, ebook and audiobook. My thanks to Sofia Saghir and the author for the gorgeous proof package which included one of Sally's own Ploom fountain pens.
---

---
From the author of the phenomenal bestseller The Keeper of Stories, comes an utterly beautiful and charming novel full of mystery and secrets waiting to be uncovered…

Her new chapter starts now…

Jo Sorsby is hiding from her past when she agrees to run her uncle's beloved stationery shop. Glimpsing the lives of her customers between the warm wooden shelves, as they scribble little notes and browse colourful notebooks, distracts her from her bruised heart.

When she meets Ruth, a vicar running from a secret, and Malcolm, a septuagenarian still finding himself, she suddenly realizes she isn't alone.

They each have a story that can transform Jo's life… if only she can let them in.

The perfect gift for book lovers, The Keeper of Stories meets The Lost Bookshop in this gorgeous novel about secrets, second chances and finding friendship in the most unlikely places.
---

---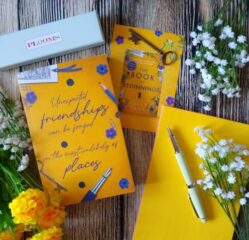 Sometimes a book comes along that has all the elements I enjoy in a book and The Book of Beginnings is one of those books. I enjoyed Sally Page's debut, The Keeper of Stories, but I have to say that I ADORED The Book of Beginnings.
The opportunity to run her uncle's stationery shop in London comes at just the right time for Jo Sorsby as she needs to get away from the memories of a past relationship. Hopefully life amongst the pens, paper, envelopes and bulldog clips will help her heart to mend. She meets new friends, vicar Ruth who is also running away, and notebook purchaser Malcolm, a man with a project but who doesn't know what direction to take. Then there's Eric, a fellow shop owner and gentle giant. Each of the characters brings so much to the story and to Jo's life.
One of the first things that struck me about this book is that it brought back my own magical memories of a childhood loving all things stationery. I used to love coming back from a shopping trip with new pens, rubbers, rolls of thick paper or chunky exercise books, just waiting to embark on a new project (or in my case probably random doodles and jottings). The author's own pleasure in stationery shines through on every page.
This is a story primarily of the healing power of friendship and how age is no barrier to that. Jo's new friends range in age and I loved the way that each character brought something new and helped to build the bonds between them. Another element that makes a book special to me is a love story and there is one here, along with bursts of humour that made me laugh out loud. As if this wasn't enough, Sally Page manages to pop in some interesting historical figures and some intriguing back stories for Ruth and Malcolm, and all this in 400 pages. This is a book crammed with delights and every page is an absolute joy to read. The Book of Beginnings is uplifting, thoughtful and enchanting and will be one of my favourites of this year.
---
---
After studying history at university, Sally moved to London to work in advertising. In her spare time she studied floristry at night school and eventually opened her own flower shop. Sally came to appreciate that flower shops offer a unique window into people's stories and she began to photograph and write about this floral life in a series of non-fiction books. Later, Sally continued her interest in writing when she founded her fountain pen company, Plooms.co.uk.