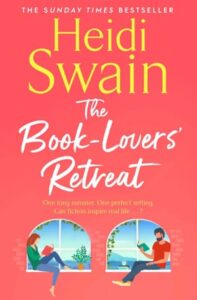 ShortBookandScribes #BookReview – The Book-Lovers' Retreat by Heidi Swain #BlogTour
It's my stop on the blog tour for The Book-Lovers' Retreat, Heidi Swain's latest book. My thanks to SJ and Harriett Collins from Simon & Schuster for the place on the tour and the review copy. You can get your own copy in paperback, ebook and audiobook when it's published on on 13th April.
---

---
The brilliantly escapist summer read from your favourite author.
One long summer. One perfect setting. Can fiction inspire real life…?

Sometimes a book grabs you by the heart and grows to mean everything to you. That's what Hope Falls is to friends Emily, Rachel and Tori. So, when they get the chance to spend a whole summer at the cottage in Lakeside where the film adaptation was located, they know it is going to be the holiday of a lifetime.

Spending six weeks away will give them a chance to re-evaluate their life choices. For Emily to decide which way her career will go – the safe route, or the more risky creative option? And for Rachel to decide whether to move in with her partner Jeremy. Then Tori has to drop out at the last moment, and her space is offered to another Hope Falls afficionado, Alex.

But when Alex turns out not to be who they expected, the holiday takes an unforeseen turn. And as the summer develops, so does their friendship. Could this be where they uncover their future selves, find love in all its forms and where their lives will change course forever…?
---

---
The Book-Lovers' Retreat is Heidi Swain's first standalone novel and it's an absolute treat of a read. Three friends, Emily, Rachel and Tori, love a book called Hope Falls, as well as the film based on the book. When I say they love it, perhaps it would be more accurate to say they are obsessed with it. As somebody who does rather throw themselves gung ho into favourite things I could identify with their fixation. Getting a chance to stay at the exact same cottage as featured in the film for six weeks is the chance of a lifetime for them, but when Tori has to drop out, Emily and Rachel manage to find Alex to fill her space. It really won't be a problem that they've never met Alex….will it?
What I love about romance novels is that whilst I have a good idea of how things are going to end up, it's what happens along the way and seeing how the conclusion is reached that is so important. After a stormy start to the holiday, the friends settle into a routine and they have some wonderful days recreating scenes from the film. It sounded absolutely idyllic in Lakeside and I now want to go and stay in a pretty cottage with a lake, and visit the waterfall and the local pub and shop. I also loved Em's patchwork creations – what a wonderful idea!
Heidi Swain has created a beautiful setting for this book and a gorgeous story of friendship and love, with the holiday producing epiphanies for all the characters. It's such a heart-warming and delightful story and the scene was set so well that it made me want to step right into the book. There's a full package here that felt like the characters were living a dream and I was living it through them. It just needs a film of this book now (which would be brilliant, by the way!) then it would completely echo the joyous feel of the story. I really loved reading The Book Lovers' Retreat.
---

---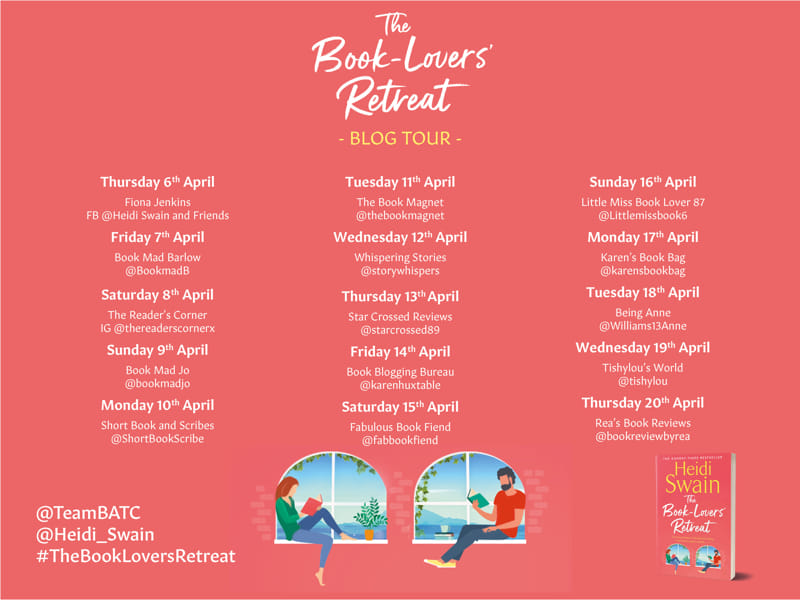 ---
---
Heidi lives in beautiful south Norfolk with her family and a mischievous cat called Storm. She is passionate about gardening, the countryside, collecting vintage paraphernalia and reading. Her TBR pile is always out of control! To find out more, follow Heidi on twitter @Heidi_Swain or visit her website: heidiswain.co.uk.