ShortBookandScribes #BookReview – The Birdcage by Eve Chase
The Birdcage by Eve Chase will be published on 28th April in hardcover, eBook and audiobook. My thanks to Gaby Young from Michael Joseph for the proof copy of the book.
---

---
Lauren, Kat and Flora are half-sisters who share a famous artist father – and a terrible secret.

After years of drifting apart, they are unexpectedly summoned to Rock Point, the cliff house where they once sat for their father's most celebrated painting, Girls and Birdcage.

Rock Point is a beautiful, windswept place, thick with secrets and electrically charged with the catastrophic events of a summer twenty years before. The day of the total solar eclipse.

It's the first time they've dared return.

When the sisters arrive, it is clear that someone is determined not to let the past lie. Someone who is watching their every move. Who remembers the girls in the painting, and what they did . . .

Set on the rugged Cornish coast, The Birdcage is a twisty, spellbinding novel with unforgettable characters who must piece together their family's darkest secrets.
---

---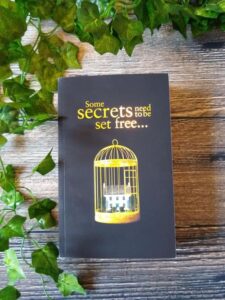 The Birdcage is a beautifully written story of family and secrets. I loved Eve Chase's previous book and I think this one is even better.
Flora, Kat and Lauren return to Rock Point, the cliff top home in Cornwall of their artist father, Charlie Finch. He has asked them to go there as he has an announcement to make. The women are half-sisters and after fractured childhoods they haven't been very close as adults either, mainly because of something that happened at Rock Point during the fateful summer of the total solar eclipse in 1999. As I say, there are secrets galore in this story with each character seeming to be holding something back. As the past collides with the present there's a chance that what was once hidden will all come tumbling out amidst the sibling rivalries that simmer in the background of the sisters' relationship with each other.
I loved the setting of Rock Point which felt very rugged and had a sort of faded glamour to it. The action never steps away from that little corner of the world and it didn't need to; the coastline and the house formed characters all of their own, along with Bertha, the family parrot who plays a surprisingly large role in the story.
The Birdcage is an enchanting story which I enjoyed very much. It has some twisty elements to it which I did mostly guess but the beauty of it is not the unexpected but the gradual metamorphosis of the three women, particularly Lauren who had the most torrid time in 1999. A wonderful novel, evocative and atmospheric, gentle yet bursting with intrigue.
---
---
Eve Chase writes rich, page-turning mysteries set in beautiful places, thick with secrets. The Glass House was a Sunday Times bestseller, Richard and Judy Book Club pick and word-of-mouth lockdown hit. Longlisted for the HWA Gold Crown award 2018, The Vanishing of Audrey Wilde went on to become an Amazon bestseller. In 2019, Black Rabbit Hall won the Saint-Maur en Poche prize in Paris for Best Foreign Fiction and also went on to be an Amazon bestseller. Before writing novels, Eve worked as a journalist in magazines and newspapers. Married with three children, she lives in Oxford, alongside a very hairy golden retriever called Harry.Say hello on Instagram and Twitter @EvePollyChase and facebook.com/EveChaseAuthor. For press reviews and more detail about her books visit evechase.com