ShortBookandScribes #BookReview – The Betrayals by Bridget Collins
Today I'm sharing my thoughts about The Betrayals by Bridget Collins. I'm afraid you can't get your hands on a copy until 12th November but there's always that pre-order button. My thanks to Lovereading and Borough Press for my gorgeous proof copy of the book for review purposes.
---

---
If everything in your life was based on a lie
Would you risk it all to tell the truth?

At Montverre, an exclusive academy tucked away in the mountains, the best and brightest are trained for excellence in the grand jeu: an arcane and mysterious contest. Léo Martin was once a student there, but lost his passion for the grand jeu following a violent tragedy. Now he returns in disgrace, exiled to his old place of learning with his political career in tatters.

Montverre has changed since he studied there, even allowing a woman, Claire Dryden, to serve in the grand jeu's highest office of Magister Ludi. When Léo first sees Claire he senses an odd connection with her, though he's sure they have never met before.

Both Léo and Claire have built their lives on lies.  And as the legendary Midsummer Game, the climax of the year, draws closer, secrets are whispering in the walls…
---

---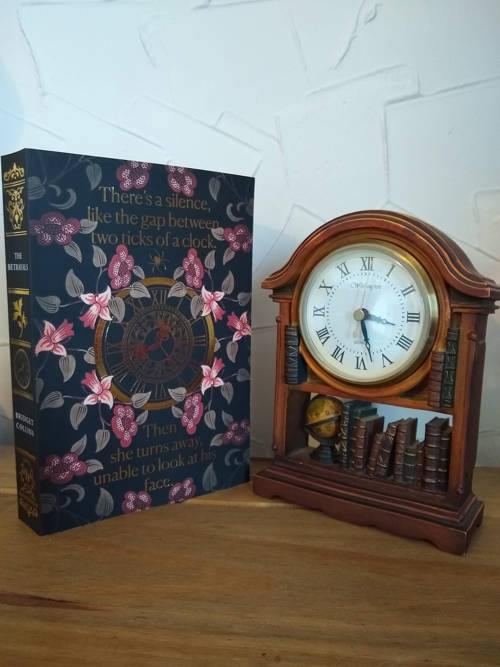 I was a big fan of Bridget Collins' first book, The Binding, so I jumped at the chance to read The Betrayals. I'm not a fan of the fantasy genre and probably wouldn't have picked up The Betrayals had it not been for enjoying the earlier book so much, but I would say that Collins writes enchanted stories that aren't completely fantastical.
The story is set almost entirely at Montverre, a mysterious school where the students (who are exclusively male) prepare for the grand jeu, a game which seems to consist of various elements which only really become clear as the story progresses. Léo is forced to return there, ten years after leaving, and he meets Claire who holds the highest position of Magister Ludi and is the only woman allowed to be there. He feels there is something between them, but what?
We are thrust between Léo and Claire in the current time, Léo's diary from his previous stint at Montverre and brief intersections from The Rat. This device works well to tell the story of what happened in the past and how it is affecting the present.
I struggled a little with the grand jeu sections, probably I needed to understand better what it actually was a little earlier. But I enjoyed the overall story of friendship, rivalry, love, and competitiveness. There were events in the story that I just never saw coming and the author did an amazing job at letting it unfold organically without giving anything away.
The Betrayals is a beautifully written book, focusing on study and those difficult formative years in an unusual and enigmatic learning establishment. Collins seems to excel at writing historical fantasy with a toe in reality. I will admit I didn't always 'get' this book and that certain parts didn't completely work for me, but I'm glad I read it and the last 100 pages or so had me turning them as fast as I could to find out what would happen to Léo and Claire.
---
---
Bridget Collins was born in 1981 in Kent, England. She always wanted to be an actor, and trained at the London Academy of Music and Dramatic Art after studying English at King's College, Cambridge, but after she graduated from drama school she found herself starting to write a novel as a way to distract herself when she wasn't working – and discovered that she loved it… Her first published novel, The Traitor Game, won the Branford Boase Award and was longlisted for the Carnegie Medal. Since then she has published six more novels for teenagers. The Binding, her first adult novel, was published in January 2019 and went straight to no. 2 in the Sunday Times bestseller list.
Although she doesn't act professionally any more – writing having taken centre stage – she is a keen amateur actor. She also loves bookbinding, running, arguing, napping and eating good food (not in that order), almost as much as she loves reading.