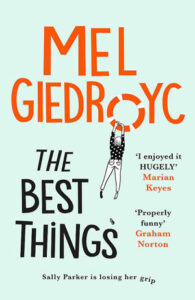 ShortBookandScribes #BookReview – The Best Things by Mel Giedroyc
Today I'm sharing my thoughts about The Best Things by Mel Giedroyc. My thanks to Headline Review and Amazon Vine for the proof copy of the book for review purposes.
---

---
Sally Parker had a morbid fear of big social events and it was for this reason that she was crouching down low in the shoe section of her wardrobe…

Sally Parker is struggling to find the hero inside herself.
All she wants to do is lie down.
Her husband Frank has lost his business, their home and their savings, in one fell swoop. Their bank cards are being declined. The children have gone feral. And now the bailiffs are at the door.
What does an ordinary woman do when the bottom falls out?
Sally Parker is about to surprise everybody.
Most of all herself.

A big-hearted story of a family on the brink, The Best Things is a life-affirming tale of failing, falling and finding a way back up.
---

---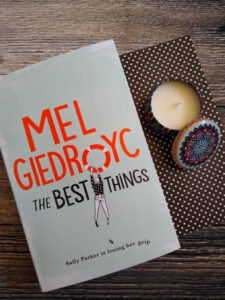 I'm always wary when a well-known face turns their hand to fiction as I think it can go either way. I've read good and bad examples, and the latter tends to occur when all I can hear is that well-known voice coming through stronger than the voices of the characters. Happily, in the Best Things, Mel Giedroyc has managed to write a novel which has her trademark wit, warmth and sassiness without overpowering her own creations.
This is the story of Sally Parker and her family: husband, Frank; children, Cleo, Stephen and Mikey; and niece, Emily. From humble beginnings, Frank has built up a mighty empire with no expense spared. Their mini army of staff means that Sally doesn't need to lift a finger except when she's prancing around playing the perfect hostess or shopping for the finest fripperies at the local farm shop or boutique. Life is good, isn't it? Well, things are about to go really bad for the Parker family and they're on the verge of losing everything as we are introduced to them.
This is one of those stories that focuses on what we should be grateful for in life and this riches to rags tale certainly brings the Parkers down to earth with a bump. I didn't always find it easy to like most of them and their materialistic personalities (Mikey perhaps being the exception) but there were moments when I sympathised and plenty of times when they made me smile or laugh. There's a lot of wit in this book, as you might expect, but underneath it all is a moral to the story and I really enjoyed seeing the way that Sally had to go back to basics and be strong for her family. Go Sally!
I wasn't sure what to expect when I started reading The Best Things but I ended up loving it. It has a hint of the Jilly Cooper about it with some raucous behaviour and some caricaturistic characters that I couldn't help but like. They'd drive me mad in real life but between the pages of a book they were great fun. The writing is engaging and I found it to be a very satisfying romp of a read. I hope to read more books by Mel Giedroyc in the future.
---
---
Mel Giedroyc has been entertaining the nation for nearly thirty years. A comedian, writer, actor and presenter, Mel is best known for her work with Sue Perkins in the double act Mel & Sue. They have presented many TV shows such as multi Bafta-winning The Great British Bake Off (BBC) and Light Lunch (Channel 4). Mel has written two non-fiction books and has appeared in sitcoms and panel shows, on radio and on the West End stage. Mel and Sue reunited in comedy drama Hitmen for Sky TV. Mel lives in London with her husband and two daughters.
The Best Things is Mel Giedroyc's debut novel.