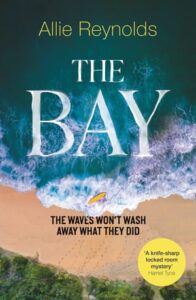 ShortBookandScribes #BookReview – The Bay by Allie Reynolds
The Bay was published by Headline on 23rd June in hardcover, eBook and audiobook. My thanks to the publishers for the proof copy of the book.
---

---
The waves are to die for. It's a paradise they'd kill to keep.

There's a darkness inside all of us and The Bay has a way of bringing it out. Everyone here has their secrets but we don't go looking for them. Because sometimes it's better not to know.

Kenna arrives in Sydney to surprise her best friend, shocked to hear she's going to marry a guy she's only just met. But Mikki and her fiancé Jack are about to head away on a trip, so Kenna finds herself tagging along for the ride.

Sorrow Bay is beautiful, wild and dangerous. A remote surfing spot with waves to die for, cut off from the rest of the world. Here Kenna meets the mysterious group of people who will do anything to keep their paradise a secret. Sky, Ryan, Clemente and Victor have come to ride the waves and disappear from life. How will they feel about Kenna turning up unannounced?

As Kenna gets drawn into their world, she sees the extremes they are prepared to go to for the next thrill. And everyone seems to be hiding something. What has her best friend got involved in and how can she get her away? But one thing is rapidly becoming clear about The Bay: nobody ever leaves.
---

---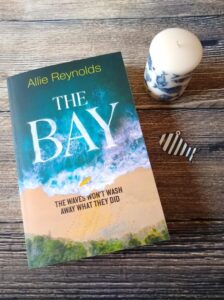 From the moment The Bay begins, it's practically all set in Sorrow Bay, a remote area in Australia where the surfing waves are to die for. Kenna arrives there with her best friend, Mikki, who she's travelled to Australia to see after hearing that Mikki is suddenly marrying a man named Jack. Kenna wants to make sure Mikki isn't making a mistake and goes with the couple to Sorrow Bay where she meets Sky, Ryan, Clemente and Victor. As a group they want to protect Sorrow Bay from getting too overcrowded but at what cost?
With the vast majority of the story being told from Kenna's point of view it makes it very claustrophobic, with only her thoughts and fears being fed into the reader's mind, and the sharply intense focus on a few characters and one small area makes it a very insular story. Allie Reynolds does a great job at building up and keeping the suspense and the fact that Kenna has been told that nobody ever leaves The Bay makes it quite an unsettling tale.
Kenna seems determined to stir up a hornet's nest within the volatile tribe and I kept wondering what on earth she was playing out. In a place where some strange things have happened I thought she didn't want to appear to be asking too many questions. Of course, that just enhances the intrigue level. The ending wasn't totally unexpected but I hadn't been sure and I thought it was a clever and cunning resolution to the story.
This fast-paced, character-driven thriller kept me turning the pages. I thought Reynolds did an excellent job with this follow-up to her debut, Shiver, and I'm looking forward to what book 3 might bring.
---
---
Allie Reynolds' debut thriller SHIVER is about a small group of former snowboarder friends at an isolated mountaintop reunion, high in the French Alps. SHIVER has sold in 24 territories to date and will be translated into 23 languages. The TV option has sold to Firebird Pictures.
Her second thriller THE BAY (UK, ANZ) / THE SWELL (USA) is set on a remote Australian beach and will be published in June 2022.
Born and raised in Lincoln, England, Allie moved to Gold Coast, Australia in 2004. She lives near the beach with her two young boys.
Many years ago she competed at snowboard halfpipe. She spent five winters in the mountains of France, Switzerland, Austria and Canada. These days she sticks to surfing – water doesn't hurt as much as ice when you fall on it.
Her first ever job was a Saturday job in a bookstore, at age 14. She taught English for many years and became a full-time writer in 2018.
You can find her on:
www.twitter.com/AuthorAllieR
www.instagram.com/authorallier